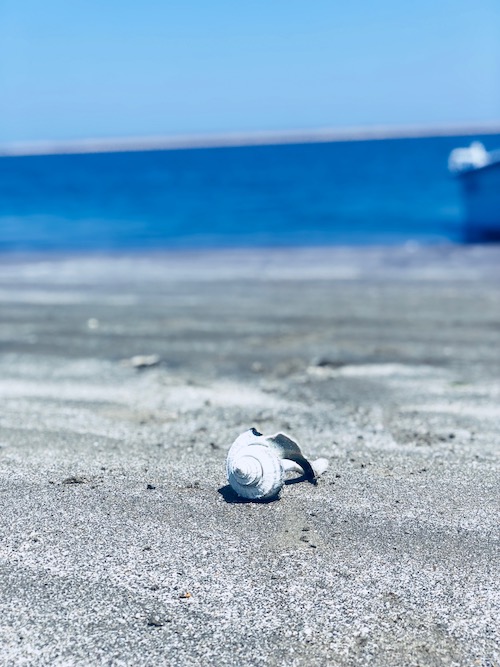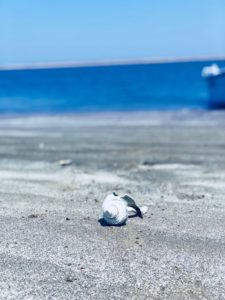 We've said our summer beach goodbyes but that doesn't mean we have to say goodbye to the beach! Fall is the perfect time of year for a Virginia Eastern Shore getaway.
The beach still beckons, yes, but there's so much more to see and do! Bring your phone or camera because autumn days produce stunning fall photo opps.
A cloudy day? You won't have to work as hard to create a picture-perfect scene. Mother Nature lends a helping hand by shielding the sun, giving you a sharper image.
Frost on foliage creates beautiful pictures, adding more texture and colors. And then there's the Bay itself, always—any time of the year—a beautiful photography subject just waiting for your personal touch.
But what other fall photo opps can you find right here in the Cape Charles area? Here are our top 7 walkabout faves.
Fall Photo Opps Favorite—The Beach
As we mentioned in the opening, taking pictures of the Chesapeake Bay never gets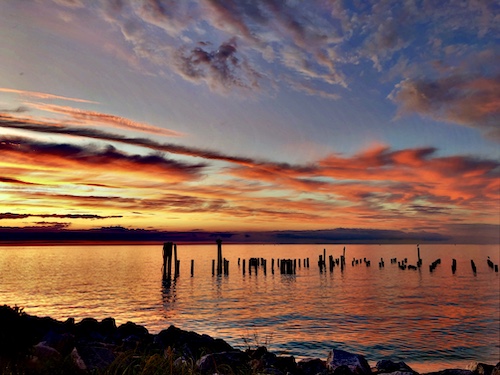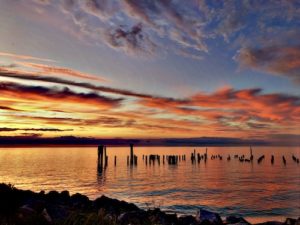 old, especially when you add a loved one to the picture.
Dig your toes in the sand, listen to the sound of the waves, and walk hand-in-hand. The Chesapeake Bay during the fall season conjures up a serenity you don't find during the summer.
What's more, the Cape Charles beach is the only public beach that doesn't have an access fee on the Eastern Shore of Virginia. Take advantage of serene stretches of the beach!
Make Romance with Sunsets and Dining Out
These two were made for each other. We recommend The Shanty and The Oyster Farm Eatery for fine cuisine. Add the sunset as dessert!
And speaking of oysters…
Get Some Oyster Slurps
You come to the Chesapeake Bay for the water and the oysters. Our aquaculture is one of the largest producers, each area producing their own distinctive flavor of oysters. Definitely photo opp time!
We recommend Kelly's Pub, The Oyster Farm Eatery, and The Shanty for some very fine oyster slurping.
Cape Charles Brewery
"Craft Brews & Tasty Eats with an Eastern Shore Twist." That's our very own Cape Charles Brewery. It's the place for good food, drink, and conversation. You'll find many reasons to snap pictures while enjoying a craft beer.
Historic Downtown Cape Charles, Fall Photo Opps Abound
In 2019, Reader's Digest named Cape Charles one of the most beautiful seaside towns in America. Coastal Living also named our small town #3 as one of the happiest seaside towns in the US.
So, no matter where you take a picture, you'll be surrounded by happy, smiling faces. And there are so many historic areas in downtown Cape Charles to see and photograph.
Not to mention, all the lovely shops. Check out Brown Dog Ice Cream to pick up a pint of the best tasting ice cream anywhere! Then take a photo to share on social media. It was voted "best desserts" in Cape Charles by Restaurant Guru this year!
Take A Step Back with the Cape Charles Mural
A must-have fall photo opp is to take a picture at the Cape Charles mural. Beautifully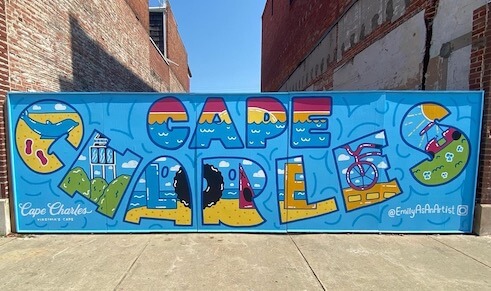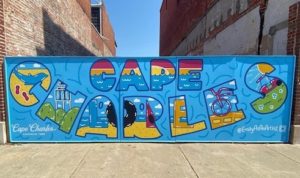 designed by artist Emily Smith, take a pic and take a bit of the Bay vibes home with you.
Take A Selfie with a Shellfie
Last but certainly not least, grab a shell from the Bay Haven Inn of Cape Charles. Decorate it and then capture the moment with a selfie. Then hang out on our porch or take a walk to Cape Charles' Central Park (literally in our backyard!).
These are certainly not all of the ways to enjoy both an Eastern Shore fall getaway and plenty of fall photo opps. Not by a long shot.
We've got birding, golfing, and water adventures as well. Come join us for a fall excursion that will rejuvenate your heart and soul! Book here.