As we trudge through these hot dog days of summer, it's time to give a nod to one of the best times to be in a Coastal town…September, October, and November.
That's right! Fall is fast approaching and it's a beautiful time of year to plan your vacation escape and visit the Chesapeake Bay.
In fact, we have 5 cool reasons to make Cape Charles your Fall destination.
Of course, getting away to the Eastern Shore means a walk on the beach. That's a given! There's nothing more soothing in any season than relaxing with the Bay.
But we've got 5 more reasons to pack a bag and head to Cape Charles. Let us know which one is your favorite.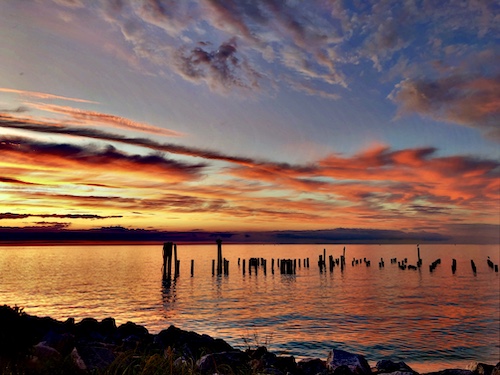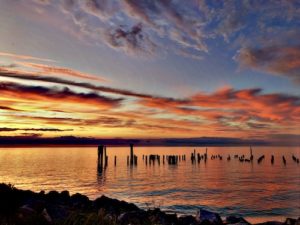 1-Sunsets on the Bay--With the Chesapeake Bay as your backdrop, you just can't beat a Fall sunset.
What better way to empty a "monkey mind" and fill it with the soothing beauty of a sunset on the shore?
You might want to grab some takeout from Tim's Place, Cape Charles Coffee House, The Bakery on Mason or Coastal Baking Company, and sit on the beach to watch nature's elaborate display.
It's such a delightful way to end a perfect day on the Shore.
2-Bird Migration–If you love the gentle art of birding, come to Cape Charles and the Eastern Shore to see 439 species of birds on the move. We're a premier birding location because the Eastern Shore is an important migratory flyway.
You'll find thousands of birds flocking to the end of the peninsula as they wait for good weather to continue south. It's spectacular!
3-Fall Flavors Arrive–With the changing of the seasons, our summer tastes shift to Fall. You'll find our local restaurants easing into the Fall flavors we all enjoy.
Cape Charles Brewing Company has released its very first barrel-aged beer! They now offer Portside Belgian which has been aged in oak port barrels from Chatham Vineyards for nine months. Don't miss out. Get some while quantities last.
And Cape Charles Candy Company is featuring fall pumpkin cheesecake with real pumpkin, plus apple pie, and fig. Other fall faves are their Chocolate Walnut Fudge, Maple Walnut Fudge, and Caramel Chocolate Fudge. It's a sweet way to enjoy the changing Fall air!
4-It's Oyster Slurping Season–Virginia Living Magazine named 14 oyster bar and oyster producers on the Eastern Shore as the 2019 Best of Virginia this year. Woo hoo!
Selected by a panel of restaurateurs, foodies, chefs, and editorial staff, our Eastern Shore winners join a very select group of folks from across the Commonwealth to share this honor.
So oysters lovers, here's where you go to get them!
OYSTER BAR WINNERS
Hook-U-Up Gourmet (Hook@Harvey) Cape Charles
Sting Ray's Restaurant- Cape Charles
The Oyster Farm Seafood Eatery -Cape Charles
Great Machipongo Clam Shack- Nassawadox
The Island House – Wachapreague
Bill's Seafood – Chincoteague
OYSTER PRODUCER WINNERS
Ocean Cove Seafood – Cape Charles
Ballard Fish & Oyster Company – Cheriton
American Shellfish Company – Cheriton
Lynnhaven Bay Aquaculture Oysters – Cheriton
Nottingham Clams, Inc. – Cheriton
Tom's Cove Aquafarms – Chincoteague
Tangier Island Oyster Co. – Tangier
5-Enjoy the Land of Gentle Living--Getting away means gearing down, and that's what we're all about here in Cape Charles. As the humidity eases, take a stroll through the streets. Wave to neighbors out porch sitting, or head to the beach hand-in-hand.
Take advantage of life in the "land of gentle living," as we know it in this treasured town. Kick back and breathe in all the advantages of coastal small town living.
Book your room now at Bay Haven Inn of Cape Charles. When you stay with us, you can "Stay Small, Stay Safe, and Stay Inn." Let us show you how accommodating and relaxing life is on the Chesapeake Bay!