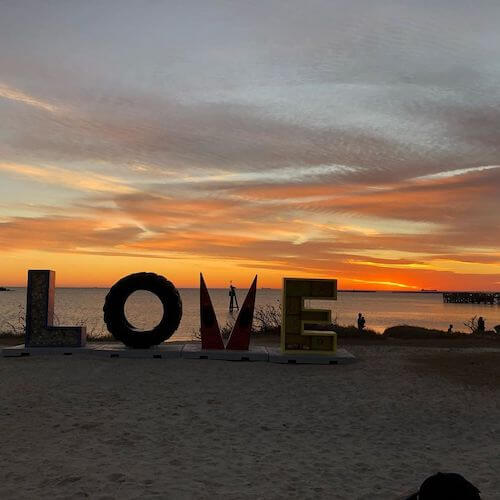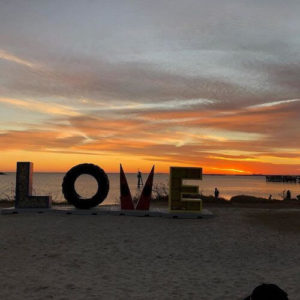 Winter is such a time of hibernation, isn't it? The skies are gray and the sun only makes special guest appearances. It sure doesn't seem like there would be any reasons to love the beach in winter.
Au contraire!
There are so many reasons to enjoy this slower time of year. In fact, we've got 5 big reasons for enjoying the beach in winter on the Chesapeake Bay. But first, let's answer the big question about the beach…
How Do You Enjoy the Beach in the Winter?
Summertime is all about activity, and plenty of it! And who doesn't love all that hot weather high energy fun? It's a great way to relax and renew.
Going to the beach in the winter also offers up a wonderful time to rest and renew but in a completely different way. Instead of turning up the activity, winter dials it back.
It's the perfect time to just slow down and enjoy the beauty around you. If your life has you running at 100 MPH and you're ready for a reset, the Chesapeake Bay beach is the perfect winter getaway to slow down.
Here's how the Chesapeake Bay and Bay Haven Inn of Cape Charles can help you get re-centered, ready to return to everyday life renewed.
Winter Beach Tips: 5 Easy-Going Beach Activities
Enjoy the Breakfast Matchmaker-–Every morning at Bay Haven Inn of Cape Charles, eight people gather around the breakfast table for a fabulous gourmet meal. Tammy and Jim serve it up in style and introduce you to people from all around the world. Strangers become friends, often developing lifelong friendships.
After breakfast, grab a seat by the fire and read through the many books on birds, like the "Field Guide to North America" written by our neighbor, Edward "Ned" Brinkley.
Then, go birding!
Birding–All year long, people from all walks of life come to the Eastern Shore of Virginia to watch the birds. With 439 different species of birds flocking to the peninsula, let our feathered friends amaze you. And all you have to do is watch!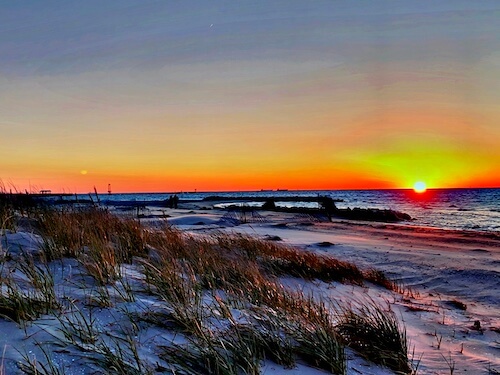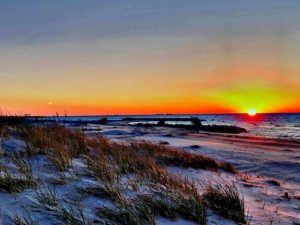 The Cape Charles Beach–Want to feel like you almost own the beach? You can! In the winter, the beach is mostly deserted. Not only is it a beautifully quiet time to reflect, but it's also very romantic. Couples who want more time to themselves love the beach in winter.
And then there are those unforgettable sunsets! Strolling along hand-in-hand, Chesapeake Bay sunsets embolden the sky with magnificent colors of orange, red, and yellows.
It's the perfect place to give thanks for all the good things in your life.
Downtown Cape Charles--Take a stroll along our Virginia downtown community, Cape Charles. With fewer numbers of tourists in winter, the pace is slower, allowing you to enjoy downtown's blend of modern stores with a touch of the past.
You'll find unique treasures such as Sea Glass and shells as the winter turns up the Chesapeake Bay.
Make sure you visit Rayfield's Pharmacy, an old-fashioned soda fountain pharmacy with 1950's style counter and stools. Or, Peach Street Books, Cape Charles Candy Company to enjoy their delectable homemade fudge, as well as Cape Charles Distillery for a warm up with their handcrafted spirits. Just enjoy a leisurely afternoon that is far removed from the hubbub of your everyday life.
Central Park--Cape Charles' Central Park is not only beautiful but its stillness in winter lends a surreal quality that makes you feel deeply grateful and appreciative of everything. Go!
And you are in luck because the Park is literally in the backyard of the Inn!
Restaurants–You can't go to the Chesapeake Bay without tasting great seafood. Whether it's Hook at Harvey, a Cape Charles Bistro, starting you off with their spicy tuna sashimi, The Oyster Farm Seafood Eatery (get the Thai Crystal Shrimp), Deadrise Pies, a fun Italian spot with a happening bar, or Kelly's Gingernut Pub. It's a wonderful Irish pub in a restored bank building. Play darts there!
Get more restaurant recommendations here. No matter what you choose, you'll find plenty of ways to spend a leisurely evening.
Hang Out–Yep. Just hang out at the Inn. You're allowed. Many of our guests tell us it's the most restorative part of their vacation getaway.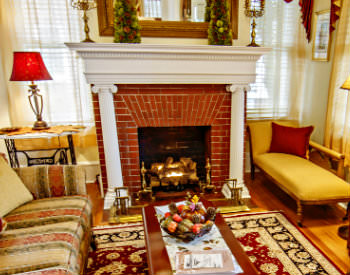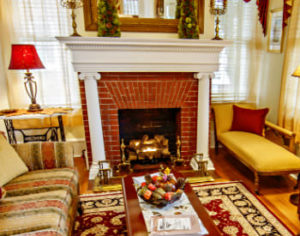 Hang out at one of our two fireplaces and enjoy the many books on the history of the area. Play board games or select a move from our significant DVD collection. Enjoy with a cup of coffee or tea while tasting our afternoon goodie selection.
Come to the Virginia Eastern Shore nestled on the Chesapeake Bay and find more than seven reasons to love the beach in winter.
We've got a great incentive to take some time for yourself with our Winter on the Bay Package. Now through March 15, 2020, stay two nights and get the third night half off. Enter the code, LOVEANDJOY.
There's no better time to steal away and find all the slower moments of life that have been tapping on your shoulder. Book here!