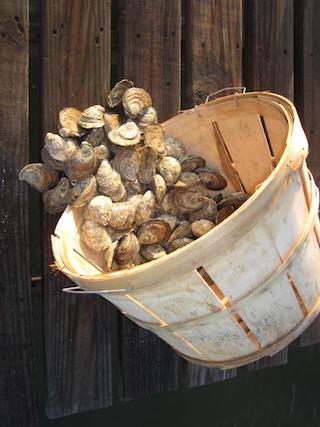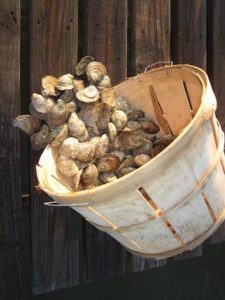 They're tasty, unique, and highly sought after. Paired with wine, you might say you've found a little piece of heaven on earth.
Virginia oysters, some of the best in the world, have been a delicacy that's literally been treasured by the sip or shall we say slurp! Who knew how long oysters would actually stay around?
The situation looked dire for a long time, but no more. Today, every oyster you eat from the Chesapeake Bay actually helps to clean it!
Give a hearty welcome to eco-friendly aquacultures and Virginia oyster trails!
Hardworking Virginia Oysters Get A Helping Hand
Thanks to the work of Standish Allen, Jr., Ph.D., professor and director of Aquaculture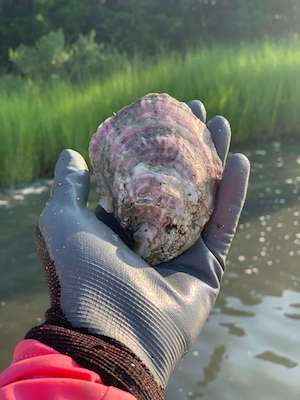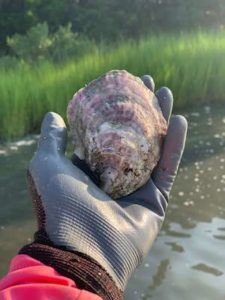 Genetics and Breeding Technology Center at the Virginia Institute of Marine Science, the eco-friendly oyster is back.
His work with oysters combined with watermen choosing aquacultures to grow the
oysters has created a resurgence in oyster farming and cleaner Bay waters.
But the real story comes from the men and women who "work the water," Chesapeake Bay Watermen. These hardworking folks are usually identified by their white boots, hardened hands, and great stories of their experiences on the water.
Often 2nd or 3rd generation, watermen have grown up understanding the waterways and the gift that comes from the Bay. These are the folks who really make sure these wonderful delicacies make it to our tables. Or if you live around here that might not even make it that far!
What could be better? Maybe this.
Shellfish Aquacultures Clean the Bay. Here's How
As most industries expand, they wreak more havoc on the environment. Not so with the oyster industry. As it grows, it provides more environmental benefits.
Cape Charles' own Ruby Salts Oyster Company, grows shellfish through sustainable aquaculture using no fertilizers, feeds, drugs, herbicides, or chemicals.
Everything they use to grow fresh, tasty oysters is long-lasting, durable, and has no polluting materials. The more oysters we eat, the more watermen can grow them, the cleaner the Chesapeake Bay!
Ruby Salts Oyster Company uses oyster racks and cages similar to wild reefs. These racks serve as natural breakwaters that protect shorelines from erosion while also providing habitat for shrimp, crab, fish, and other underwater animals.
What's more, oysters, because they are so eco-friendly, also promote eelgrass survival in waters that have not supported it for decades. Now more fish, shellfish, waterfowl, and invertebrates have more food available to them.
What's not to love?
Natural Oyster Restoration in the Bay. Yes, It's Happening!
It's not just oyster aquacultures that are making a positive impact on the Shore. The Eastern Shore of Virginia's The Nature Conservancy and its partners work tirelessly to restore natural oysters reefs on the Bay and its tributaries.
With the creation of large scale oyster sanctuaries, the natural restoration of Chesapeake Bay oysters is a reality. Here's how.
The Nature Conservancy is building on the success of three sanctuary reefs totaling 50-acres, which were constructed in 2014, 2015, and 2017 in the Piankatank River.
The Piankatank was chosen largely because of its unique flow and strong natural retention of oyster larvae.
Along with its partners, including The Army Corps of Engineers, Virginia Marine Resources Commission (VMRC), and NOAA, their goal is to achieve 428 acres of oyster restoration in the Piankatank River by 2025.
That's bigger than the National Mall in Washington, D.C. It will also be the biggest oyster restoration project in the world.
These Oyster Castles are the Hope of the Future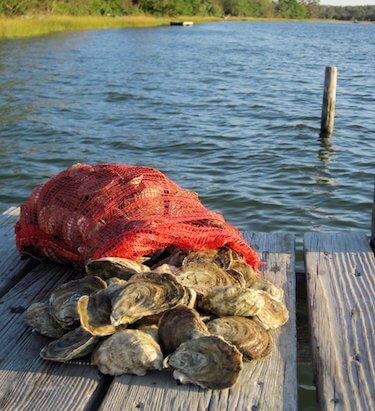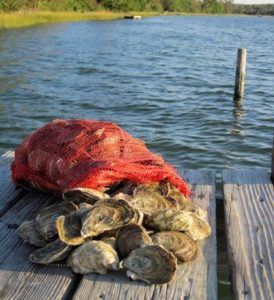 The sanctuary reefs are constructed using clean, crushed granite or concrete with high-pressure water hoses depositing smaller sized substrates.
Floating cranes and barges precisely place the granite blocks in rows along the reef sites. The blocks provide a foundation on which young oysters can attach and grow.
These oyster castles will grow upwards along the shore stemming the erosion while promoting self-sustaining oyster populations.
The Nature Conservancy is experimenting with various designs of the reefs to learn which one best achieves that erosion goal.
Just as importantly, for every dollar invested, these oyster castles provide an economic return of $7. What an important step to returning a vital natural resource back to the Bay.
It's fascinating! That's why we encourage you to visit the Brownsville Preserve and the Barrier Island Center to learn more about this incredible work.
Lower Bay Eastern Shore Virginia Oyster Trail Guide
There are eight different coastal habitats in Virginia, each with oyster flavors distinct to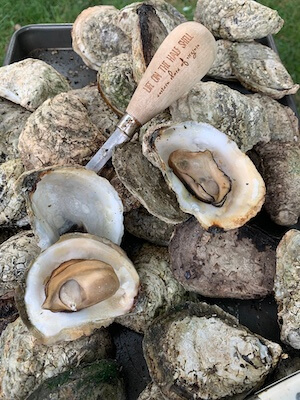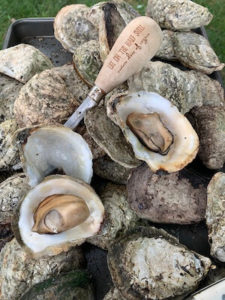 their respective regions. You'll find oyster flavors ranging from salty to sweet to buttery.
What's fascinating is the close proximity of some of these regions. Some inlets and creeks are no more than a mile apart! And yet, their flavors, textures, and even their appearances take on unique nuances.
Here in the Lower Bay Eastern Shore region, our oysters are salty and creamy with a mellow, quick finish. Perfect oyster-eating!
So where do you go to clean the Bay with every mouthwatering bite? Here's our local list:
Tour a Chesapeake Bay Aquaculture
See for yourself what a Chesapeake Bay aquaculture looks like. Sign up for a tour of Cherrystone Aqua-Farms here in Cape Charles. View firsthand oyster production and learn the in's and out's of oyster life.
Ready? Pack a bag and make a delicious contribution to the Bay, all while enjoying your own Virginia oyster trail right here in our region.
Leave breakfast to us (We promise no oysters for breakfast.) as well as superb accommodations. Make new friends and enjoy life by the Chesapeake Bay!