A delicious November awaits, and no, we aren't talking about Thanksgiving.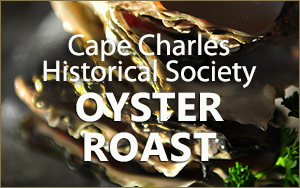 Tis the season of Wine & Brine here at the Chesapeake Bay, a heavenly pairing of our finest wineries and oyster trails.
With notes of bay breezes, sunshine, and salt water, Chesapeake Bay oysters have their own unique flavors characteristic to the Eastern Shore.
Here in the Lower Bay, our oysters tend to be salty and creamy with a mellow sweetness and a quick finish. Sound tempting?
Then, pack a bag and make time to enjoy wine tastings, water tours, fresh seafood, and, of course, wine and oysters!
The Wine & Brine Oyster Trail of the Chesapeake Bay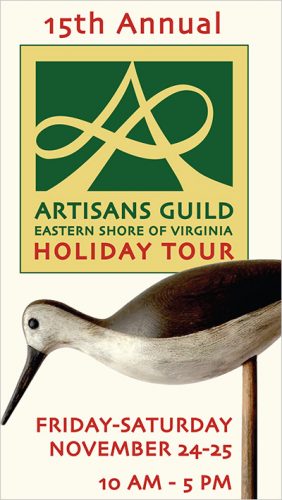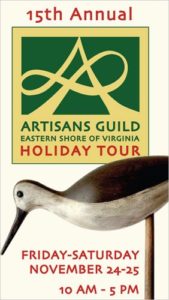 Virginia is the fifth largest wine grape producing state and the largest producer of fresh, farm-raised oysters here on the East Coast. It's a pairing that's worth a month long celebration.
But where to go and what to do? Don't worry. We've got you covered! From oyster roasts, festivals, wine pairings, and the like, here's a calendar of events.
As you can see, there's plenty to keep you happily busy for the whole month. It's a wine and oyster lover's dream!
What's the best way to enjoy Chesapeake Bay oysters? Hmmmm…there are so many!
The best way, of course, is to go to a local oyster roast here on the Shore.
The taste of freshly harvested oysters roasting outside can't compare to any other oyster you've eaten.
How to Eat an Oyster for A Divine Culinary Experience


Just like wine, consuming oysters has its own set of rules.
Using your fingers, make sure you separate the meat from the shell first. Then use your fingers to pick up the delicacy.
Hold it at the hinge, tilt and slurp all of the liquor (a combo of seawater and clear oyster blood) and that sweet oyster meat!
Now chew. Similar to wine, an oyster must be aerated. The merrior, or the influence of the oyster's natural environment, is tasted as much in the liquor as the meat.
Condiments for Oysters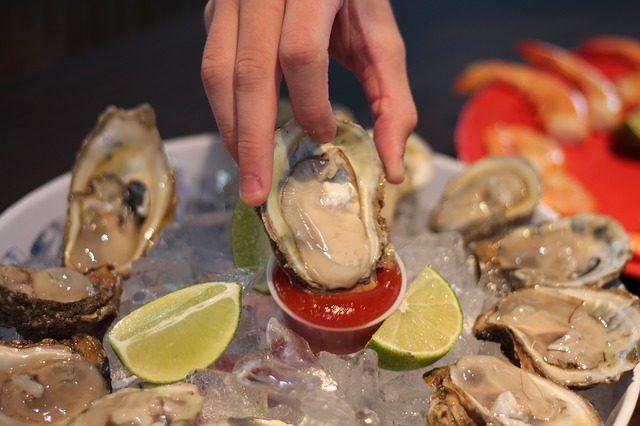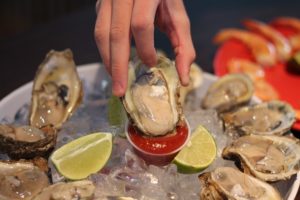 So, how do you make that culinary experience out-of-this-world? Add some carefully chosen condiments.
Citrus--Most people squeeze a bit of lemon on their oysters. But also consider lime and grapefruit.
That bit of sourness mixed with the creamy, salty texture is exquisite.
Mignonette–The classic French mignonette, a red wine vinegar, finely chopped shallots, and fresh ground pepper, is another condiment that makes fresh oysters divine. Just remember, a few drops is all you need.
Cocktail sauce–Some folks like ketchup and horseradish with their oysters. Consider adding Worcestershire sauce, too!
You've just learned everything you need to appreciate this international delicacy.
Make plans now to visit Cape Charles, and enjoy the Eastern Shore's long love affair with oysters and wine, dating back to Jamestown and the early settlers.
It's an excellent getaway with loads of fun!
Make your reservations with us here.