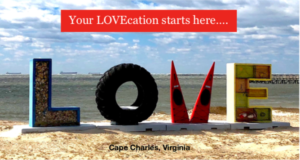 "All you need is love…" And of course, the Beatles were right. Cape Charles took that message to heart when the LOVE sign was installed at the point of Cape Charles in the spring of 2014 as part of the Virginia Tourism LOVEwork program.
So why place the LOVE sign on the beach with the Chesapeake Bay as its background? Pictures paint a thousand words as you can see here with a magnificent evening sunset.
What could be more beautiful to watch as the evening winds down or as the morning begins?
History and Community Woven into the LOVE Sign
While the LOVE sign is beautifully staged against a natural beach backdrop, it means much more than four letters strategically positioned in the sand.
Lovers snap selfies

Families pose for this year's holiday card to commemorate their trip here

Residents bring friends and family to this must-see stop
Everyone loves the LOVE sign for what it stands for. But take a closer look at the construction of the sign and you'll see the heart and soul of Cape Charles embedded in each letter.
L-Made of sea glass and seashells to represent the bayside community
O-A tractor tire to represent agriculture
V- Made of kayaks to represent all the outdoor activities and adventure
E- Made from crab pots to represent aquaculture
Cape Charles Visitors Post LOVE Pictures
Visitors to the Cape Charles area frequently post pictures on Cape Charles Virginia's Instagram and Facebook pages with the hashtag #lovecapecharles and #loveva. We're betting you will, too!
During your LOVEcation you will want to do some exploring of Virginia's Natural Coast, and believe me, there is a lot to LOVE! The Eastern Shore has several LOVE signs. Plan your road trip to LOVE and check them out. As you enter the northern tip of Virginia's Eastern Shore, you will come to the Virginia Welcome Center at New Church. Stop in and meet the friendliest folks in the world at your official Virginia Welcome!
Explore LOVE on Chincoteague Island
Then it's off to explore the lush land of beautiful Chincoteague Island and get a glimpse of the wild ponies (you know you all read Misty as a child, a must visit in person) and take a "seat" on their LOVE chairs.
Continue your journey by exploring the quaint towns and unique culture of the Eastern Shore along the way as you head south, to the tip of the shore, finishing up your ESVALOVE journey at the Cape Charles LOVE sign. Make sure you post your pics and hashtag #ESVALOVE
LOVE yourself right into our Cape Charles community! Plan your vacation with us. We'll take care of all the details while you relax and enjoy a bayside adventure made to order! Book here.