Gardening is a passion for Jim and I. It started out as a hobby, but now is a labor of love. It's so exciting to grow fresh produce and serve it to our guests. Your tastebuds will dance with delight for the cukes, melons, peppers, zucchini, and tomatoes grown on the premise.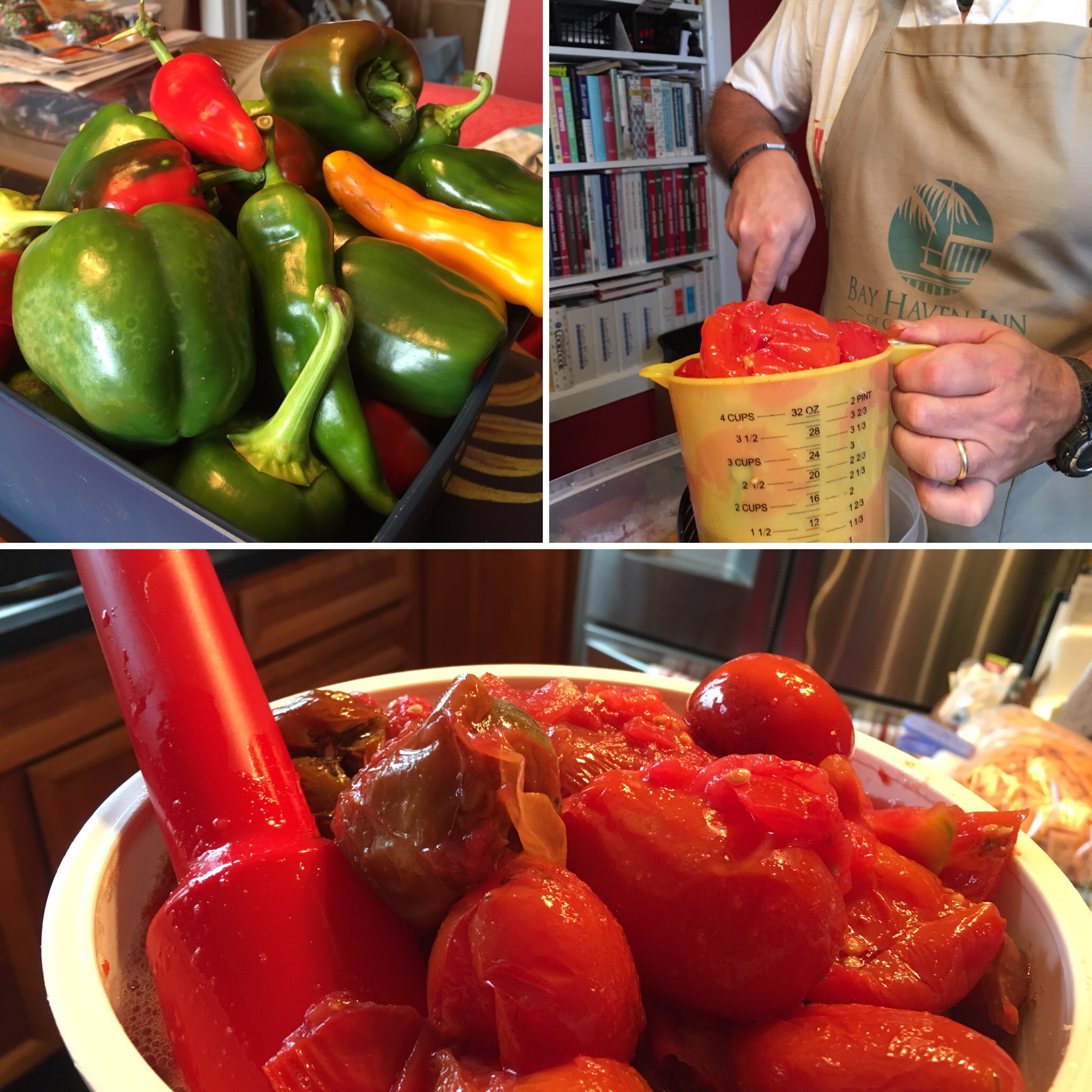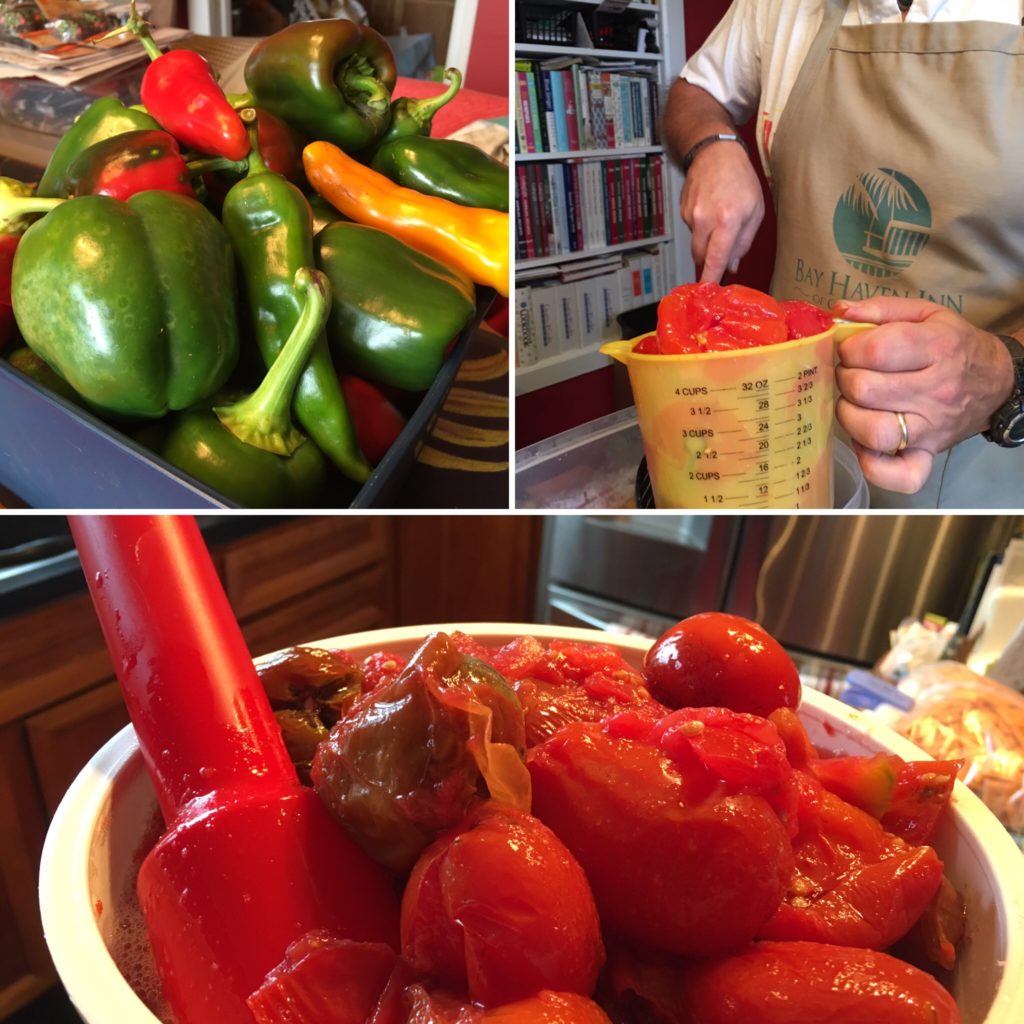 With such an abundance of produce, comes the need for canning. Both Jim and I grew up in homes that canned and "put stuff up" for the winter. There is nothing like having canned delicious peaches in the middle of December! We use the peaches for our Peach Pepper Jam and the guests just rave about it! With the plethora of tomatoes–we grew over 32 varieties last year–we would be remiss if we didn't use them to make salsa and tomato jam.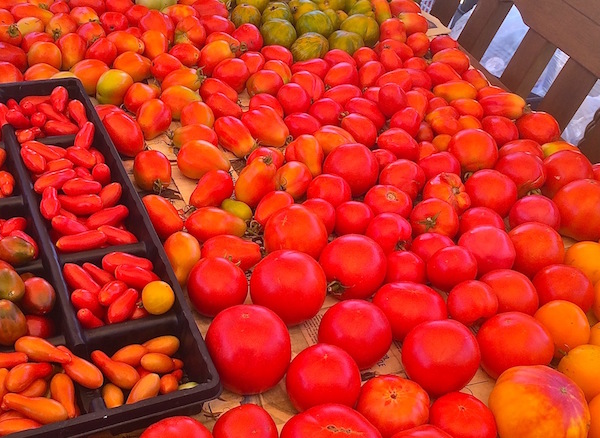 The rich aroma of canning reminds our guests of a simpler time when they watched their grandmothers, moms, or aunts preserve fruits and vegetables. Guests are tipped off that canning will happen when they see the jars on the dining room table. (As if the incredible aroma that permeates the inn doesn't clue them in first!)
This year we made a very special relish in honor of tropical storm Hermine. Guests took home a jar of "Hermine Relish" to remember the uneventful tropical storm.
Between our garden, Pickett's Harbor (a local farmer that gives us what they can't sell), and figs from a friend's tree, we have more than enough produce to serve, can and share. Speaking of sharing, here is a recipe featuring our fresh-from-the-garden-produce.
Hot Pepper Jelly
1                         large green pepper, seeded
16                                 large jalapenos, seeded
1 ½ cup                        apple cider vinegar
1 pinch                          salt
4 ¼ c                            sugar
4 oz                              pectin (powdered or liquid)
4 drops                         green food color
1 pair                            food handlers gloves (where whenever handling hot peppers)
cheesecloth or strainer
Prep 30 minutes
Cook 15 minutes
Ready in 1 hour 45 minutes
Sterilize 6 (8 ounce) canning jars and lids according to manufacturer's instructions. Heat water in a hot water canner.
Rough chop peppers and place in a food processor and dice until very small and liquefied. Transfer to a large saucepan over high heat. Mix in vinegar and bring to a boil, allowing peppers to reduce down.  Remove from heat and let cool.
Strain mixture, collecting liquid from the peppers in a large bowl. Pressing through cheesecloth (or strainer) frequently to get all excess liquid. Set aside pepper mixture to use as a pepper relish. ( see recipe)
Place the liquid back in saucepan and bring to a boil. Stir in pectin and sugar, stirring constantly. Return to full rolling boil, and boil exactly 1 minute, stirring constantly. Remove from heat, and skim off any foam.
Quickly ladle jelly into sterile jars, filling to within 1/4 inch of the tops. Cover with flat lids, and screw on bands tightly.
Place jars in rack, and slowly lower jars into canner. The water should cover the jars completely, and should be hot but not boiling. Bring water to a boil, and process for 5 minutes. As jars cool, you will hear the sound of the lids sealing.