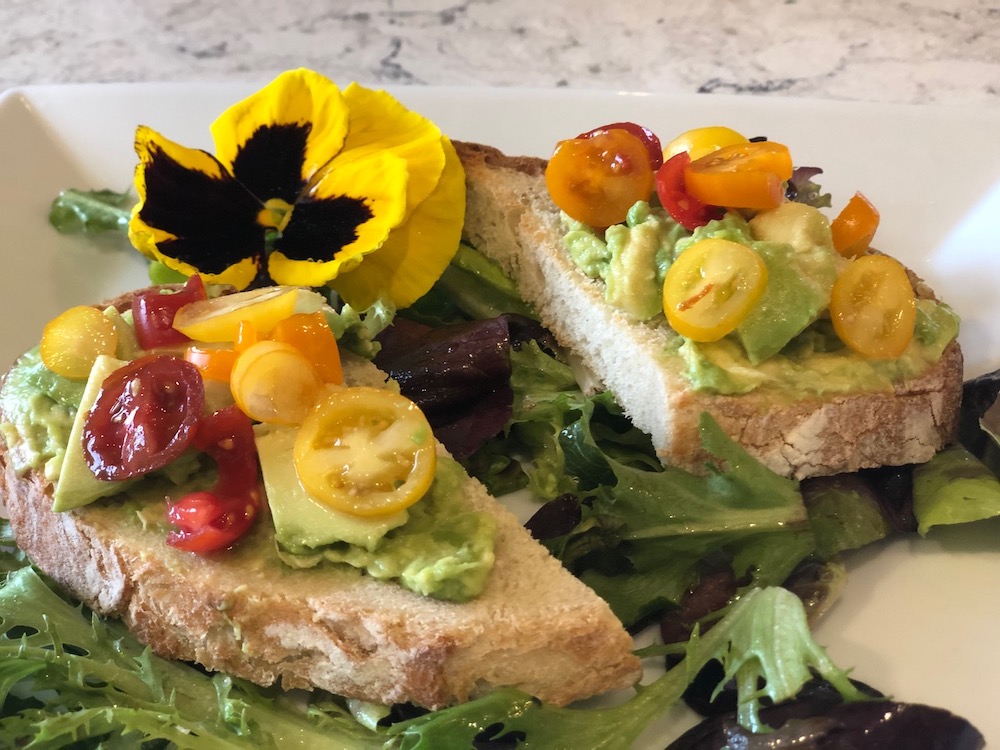 Mmmmm! There's nothing like fresh breakfast farm-to-fork delights. Virginia's Eastern Shore is one of the state's top producers in agriculture and Cape Charles soil is rich and full of nutrients, making growing almost anything a snap.
That's why, from veggies, fruits, and eggs to Bay Haven Inn's signature coffee blend from local roaster, Eastern Shore Coastal Roast, we love making breakfast simple, delicious, and local.
But have you ever considered adding edible flowers to the farm-to-fork list? Here at the Inn, we grow from seed our own edible flowers and add them to the breakfast menu!
I've grown nasturtiums, marigolds, and chive flowers, using them to complement some of our most favorite breakfast dishes such as:
Breakfast Asparagus and Gruyere cheese frittata served on a bed of fresh organic greens, a light dressing using local olive oils, and white balsamic vinegar from Drizzles. Garnished with edibles like pansies and nasturtiums.
Breakfast in Bread,

also served with fresh greens, a lovely play on words (Breakfast in Bed 🙂 is a puffed pastry with cheese, bacon, and a farm-fresh egg from one of our local farmers, Copper Cricket.

Bay Haven Skillet,

another favorite, serves with greens and fresh local berries and a surprise edible flower on the side.
But it's not just flowers. We also grow from seed heirloom tomatoes, lettuces, zucchini, and of course, a variety of herbs. These, too, are enjoyed for breakfast.
We start all of our vegetables from seed in our gardens. We nurture them all spring until we can get them in the ground to begin growing in full, for harvest mid-summer. This year we started some of our favorite heirloom tomato varieties; Green Zebra, Black Russian, Cherokee Purple, Pink Brandywine, and David Davidson.
If you are lucky, you might even get a tomato plant to take home! Seems every seed I nurtured decided to take! 🙂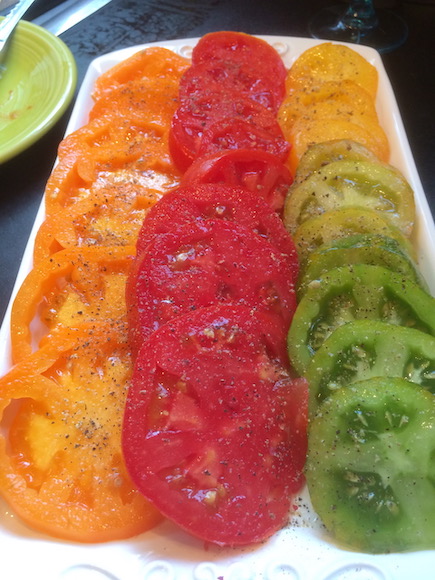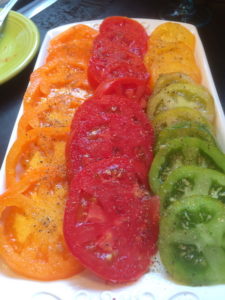 Why is growing food from seed so important to us? As a master gardener, all things flowers and food are my passion!
To us, there is nothing better than getting our hands in the soil and making magic from nature's blessings.
That's why, as innkeeper, it brings great joy to share these on a plate at our breakfast table, knowing Jim and I nurtured them with love from seed to your fork!
When you visit the inn, depending on the season, we are happy to take you on a tour and possibly share some of our harvest. We love that!
But don't limit yourself to just our gardens. Go see New Roots Youth Garden right here in Cape Charles, and visit Eyre Hall. You'll love both of them.
Go ahead and book your edible adventure here!