Mother's Day is right around the corner. Are you scratching your head, wondering what to get the woman who's stood by you your whole life? Chocolate and flowers work.
But may we suggest giving her the gift she never dreamed of? Just tuck it right in with that big bunch of flowers!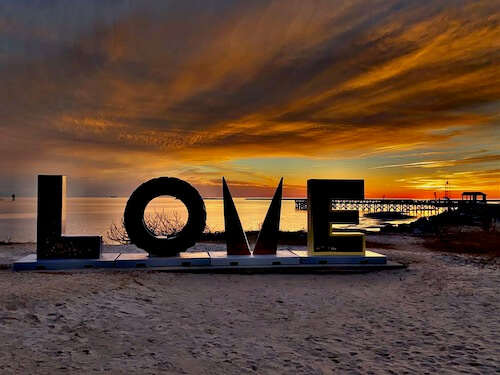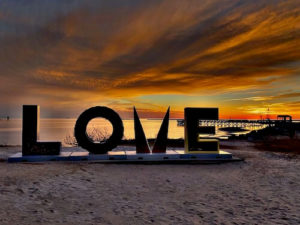 Give her sunshine, sandy beaches, excellent seafood, and extraordinary sights only found on and around the Chesapeake Bay.
A gift certificate from Bay Haven Inn of Cape Charles ensures her stay is not just comfortable, but it will be the stay of a lifetime!
She may have recently read about Cape Charles in the April 2021 issue of Southern Living, The South's best beach towns. Or seen the town featured on HGTV's beachfront bargains. Either way, she will be glad you treated her to an escape to such a lovely untouched coastal getaway.
A Mother's Day Chesapeake Bay Getaway: What to Expect
Mom can use her gift card any time she wants. Does she have a special occasion coming up? A birthday or anniversary? She plans when she wants to use it.
Just know that when she arrives here, we can make suggestions–based on her interests–of what she would like to do.
With that in mind, we thought we'd mention some Chesapeake Bay favorites.
Wining and Dining
One of the most enjoyable aspects of a stay here on the Bay is enjoying the seafood. With restaurants like Hook at Harvey, a premier seafood restaurant, Ambrogia Caffe & Enoteca, a fine Italian restaurant, she can enjoy dinner cuisine that tempts and tantalizes your taste buds!
She'll also love The Shanty, an American-style harborside restaurant with amazing seafood offerings, the Oyster Farm at King's Creek, featuring the Bay's own oysters, or enjoy Kelly's Gingernut Pub, a classic interpretation of an Irish Pub, warm and inviting where everyone knows your name!
Local Shops and Comfort Food
For an easy afternoon, make sure to wander the streets of downtown Cape Charles. Visit Moonrise Jewelry for jewelry handcrafted right here in Cape Charles. Or stop in at Drizzles, a tasting shop of aged balsamic vinegars, quality olive oils, single bean coffees, and more.
Enjoy the boardwalk, wine tasting at Gull Hummock, which also has a large assortment of gourmet foods and snacks.
Or stop by Periwinkles, our award-winning consignment store. Mom can pick out a new beach look! But whatever you do, finish off your afternoon by visiting Brown Dog Ice Cream. Or visit the Cape Charles Candy Company for incredible homemade fudge.
Wander the Beach
Mom will love digging her toes in the sand, hearing the cries of seagulls as they wing overhead and the soft ripple of Chesapeake Bay waves. The beach renews and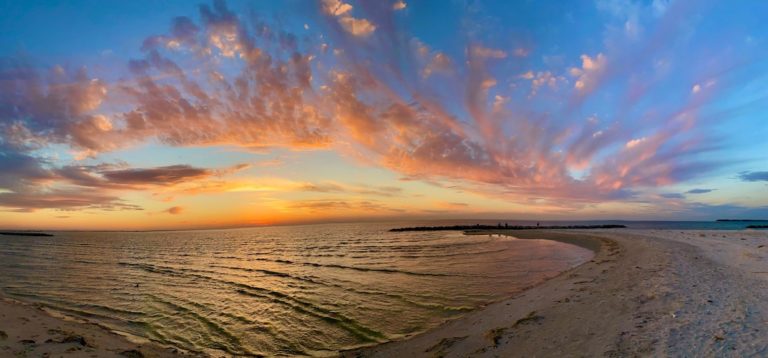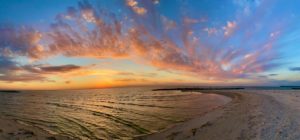 refreshes, allowing time for reflection and solitude. It's the perfect way to unwind, alone
or with friends.
If you forgot a good beach read, stop by Peach Street Books, the most adorable local bookstore for a handful of good reads!
And the sunsets are incredible! Pictures taken are sure to become instant screensavers! A perfect way to end your day.
Nature at Her Finest
From rare plants, butterflies, birds, and dunes to the great Eastern Shore of Virginia Barrier Islands, Mother Nature delivers in astounding ways.
Kiptopeke State Park, explored by Captain John Smith in 1608, offers hiking and biking trails while birders can watch raptors of all types. The park has an incredible butterfly garden, Owl prowls and hawk walks, something for every season.
The National Wildlife Refuge has even more migratory songbirds and raptors. Currently, the bird list has 406 species found in and around the Cape Charles area. Go see them!
The Savage Neck Dunes Preserve–with a mile of Chesapeake Bay shoreline–has a treasure trove of native plants, butterflies, moths, and more. What makes this preserve so special is its large bayside dune and various plant communities.
Or visit the historic farm at Brownsville Preserve. You'll find a boardwalk and trails that let you see animals in their natural habitat, as well as many bird species.
Plus, there are biking and nature trails, geocaching, and so many reasons to keep your phone handy for pictures!
Vineyards and Distilleries
No visit would be complete without enjoying Virginia's Eastern Shore's own Chatham Vineyards. Owned and operated by the Wehner family, it has been a working farm for four centuries. You can still enjoy a tasting of their wines in a unique and beautiful setting.
Cape Charles Distillery is also a must-visit. Whiskeys, bourbon, vodka, and moonshine are all made with locally grown corn and grains as well as with pristine mountain spring water.
Buskey's Cider on the Bay is Cape Charles' cidery. Made with 100% fresh-pressed local Virginia apples, enjoy watching the strollers on Mason Avenue as you enjoy your tasting. A perfect spot for a cocktail before dinner!
Make Mother's Day A Gift She'll Always Remember
With so much to see and do (these favorites are just the tip of the iceberg), give mom the gift she never dreamed of and will remember for a lifetime. Give a gift of a Cape Charles Virginias Cape escape and allow us to host your mother's stay.
Let her taste "cart life" as the locals do, and add a golf cart rental to her gift package so she can scoot around Cape Charles.
Here at Bay Haven Inn of Cape Charles, we'll pamper her with gourmet breakfasts and 5-star rated service. Your mother will claim you were always her favorite!