'Tis the season — of sparkling trees and festive mantles, that is! To help you, we've curated our best holiday decorating tips from an innkeeper. Each year, we decorate seven trees and five mantles and find that these tips help make decorating fun and stress-free.
Decorations during the Holidays help make the Inn cozy, warm, and welcoming, allowing our guests to relax and embrace the season. I always begin with choosing three colors as a theme for my trees. Then, I follow these five steps to create an enchanting and cozy inn.
1. Tree Toppers — Make Your Own
Placing the star on top of the tree is like the cherry on top of an ice cream cone. While tradition mandates a star, skip the traditional topper and make your own! Not only does it give your tree a creative top, but there are endless ways to give it a personal touch. Select a few fillers (try googling Christmas decorating stems for inspiration) with different textures and insert each piece to create a unique "hat" or "crown" similar to British fascinators — extravagant decorative headwear worn by high society ladies.
You could even create a quilted angel or jubilant Christmas bell if you're an artsy soul. Making your own tree topper can become a new holiday tradition that's fun for all ages.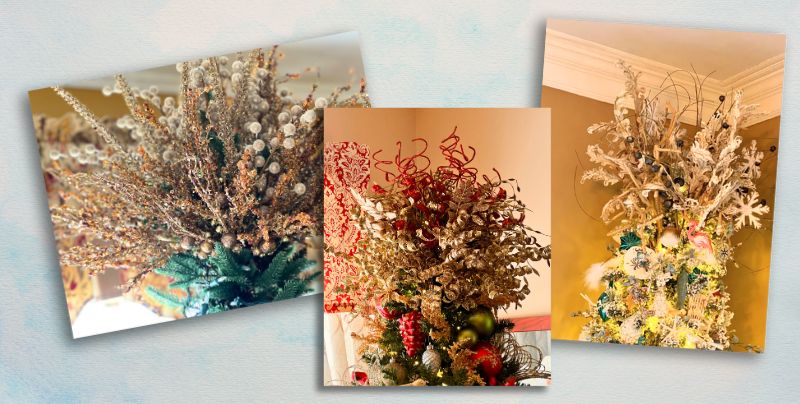 2. Merry and Bright — It's All About Lights
Light up your tree so you can see all the details of your ornaments and decorations. They make your home feel warm and cozy as evenings become darker and cooler. Both outdoor and indoor trees can have lights. We prefer warm white LED string lights at Bay Haven Inn of Cape Charles.

Here are a couple of tricks to making your Christmas tree truly gleam:

Showcase the branches by weaving the lights from the back of a branch toward the front and continuing around the tree — including the trunk.
Lay the lights on top of the branch loosely so they hang a little. We use this method instead of wrapping lights around branches, so cleanup is more efficient.
This method helps illuminate the ornaments on the branches and the presents that continue to appear underneath.
3. Ornaments — Vary the Size
So many beautiful ornaments are available now — not to mention precious ones handed down through the years. Just remember that you don't need to purchase a large quantity of expensive ornaments. Fill your tree with less-expensive ornaments of varying sizes, but let your most prized ornaments take center stage.

Here are a few tips on adding ornaments to your tree:
Hang varying sizes and textures of ornaments throughout the tree.
Hang your favorite and more elaborate ornaments toward the front of the tree branches.
Shiny ornaments next to lights extend the sparkle, so hang them in varying places around the tree — close to the trunk and outward to the tip of the branches.
Hang heavier ornaments closer to the trunk for more support.
Stand back, assess your ornament arrangement, and adjust as needed.
4. Filler — No Gaps Here
Use a variety of picks you can find at hobby, dollar, and thrift stores. These come in varying sizes, colors, and textures, including frosted holly leaves and berries, pine cones and pine boughs, eucalyptus leaves, poinsettias, ribbons, and more.

Additionally, you can add natural items similar to the silk picks mentioned above. Strings of popcorn and cranberries or other garland or tinsel can be added as well.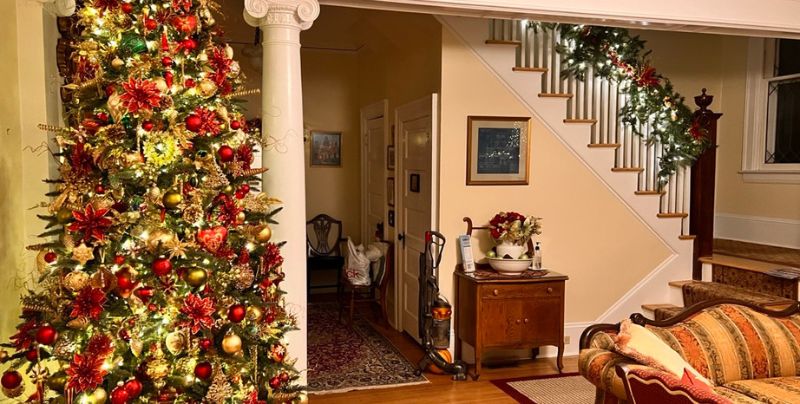 5. It's Not Just About the Tree — General Decorating Tips
We also love to decorate our fireplace mantles. Arrange a high-quality garland and personalize it with ornaments, pine cones, lights, ribbons, etc. Take it from a standard store-bought garland to a luxurious, standout piece of art.

Deck the halls throughout your home. Add touches of the season on your dinner table and counters, bookshelves, and staircase rail—head on outside to add flair to your porch railing and front door.

Here are some additional general tips I keep in mind.
Spread your decorating budget by hitting the sales after the holidays.
Spend more on foundational items such as a high-quality garland base for your fireplace mantle, a beautiful artificial tree, or showpiece ornaments.
Take photos of this year's decorations as a reference for next year.
Mark your storage bins so they hold items from each area in your home so it's easier to decorate from room to room next year.
Let Us Host Your Holiday Getaway
My five best holiday decorating tips from an innkeeper are simple and easy to implement. Now it's your turn to Deck the halls with boughs of holly! Create your own work of art on your tree, fireplace mantle, and in every room in your home. Just a little touch of the season goes a long way! Don't forget the amazing aromas of the season, with candles glowing and scenting the air in each room.

I'd love to show you my decorating style at our Bay Haven Inn of Cape Charles. Come see us this holiday season and enjoy a merry and bright holiday getaway. Perhaps even enjoy a walk on the beach!