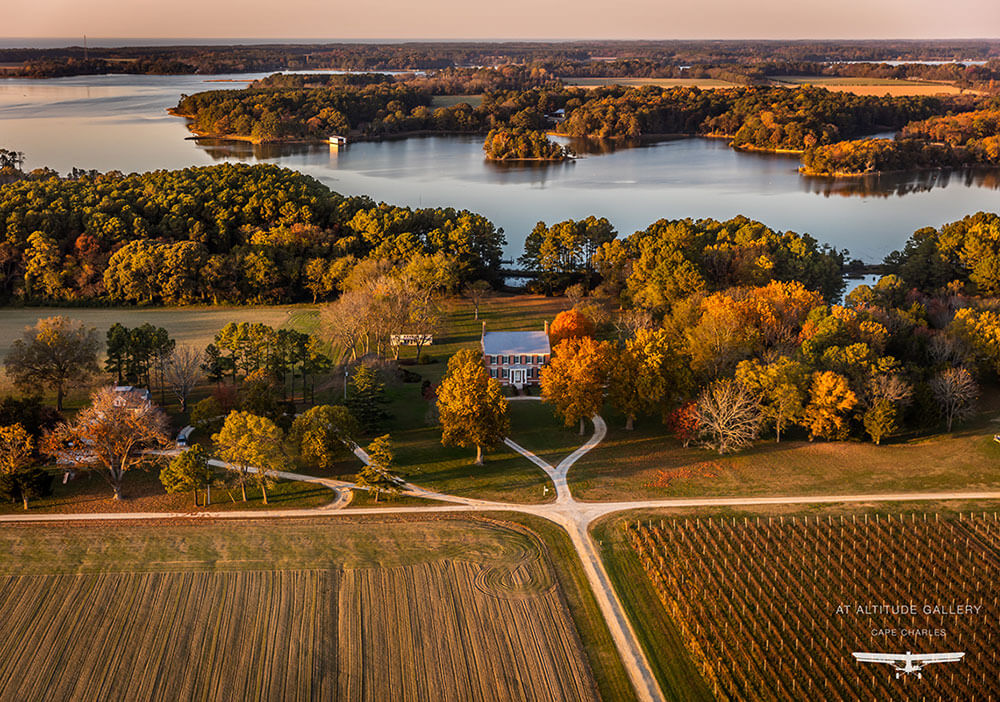 Nestled between the Chesapeake Bay and the Atlantic Ocean lies a historic and special place, Chatham Farm, a working farm for four centuries. Owned by second-generation winegrower, Jon Wehner, in 1999, he expanded the farm's capabilities by planting more than 20 acres of high-density French vinifera varietals.
It was a good move. Chatham Vineyards was the perfect place for a high-density European style vineyard. Jon and his wife, Mills, planted 34,000 grape vines which produced 73 tons of grapes.
By 2005, the Wehners built a winery with a production capacity of 3,000-5,000 cases annually.
Chatham Vineyards: A Meteor Comes to Town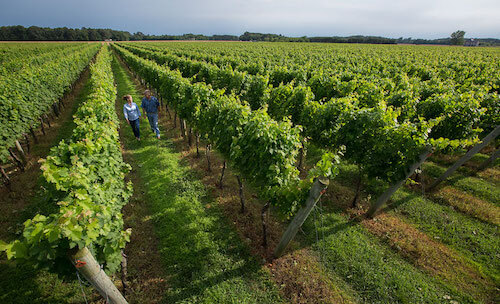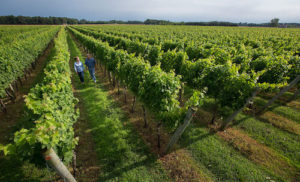 How did Chatham Vineyards' acreage become such a good fit for superb winemaking? The answer starts with a meteor.
About 35 million years ago, a meteor crashed onto the Eastern Shore of Virginia creating the Chesapeake Bay. It displaced much of the soil, fragmenting both the shell and mineralogy.
That shell combined with sandy loam soil and a maritime climate that allows for a long growing season give Chatham Wines its distinct mineral-driven quality. Flavors are subtle and elegant.
As Jon says, "The best wines made in the world reflect the vineyard and the place." And that is certainly true for this Virginia Eastern Shore vineyard.
Now a registered American Viticultural Area, Virginia's Eastern Shore is officially recognized as having a unique climate and area for producing extraordinary wine.
"With a vineyard," Jon said, "I just love how in touch you are with the outdoors, that you are producing something, making something with your hands. And what I love about this business, is we do it from start to finish."
Oyster Pairing and Chatham Vineyards: A Perfect Fit!
Nothing says Virginia Eastern Shore like oysters! Our region is internationally known for the unique flavors of this delicacy. And when you eat something this good, you want to pair it with the best wine available.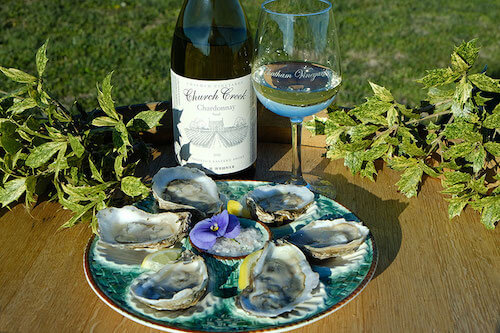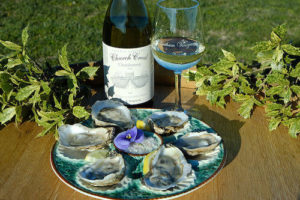 Church Creek wine produced by Chatham Vineyards fits that bill to a T. It's a staple here on the shore. We call this pairing #wineandbrine. Fall and winter is the best time to enjoy this fabulous combo!
Of course, this year is a little different. Our typical lineup of Wine and Brine are more DIY. We recommend you grab a bushel of oysters, fire up your grill, and chill some Steel Barrel Church Creek Chardonnay. Absolutely delicious!
What's more, you'll be in good company. Chatham Vineyards, along with 26 of our friends, joined Bay Haven Inn of Cape Charles as a Virginia Living Magazine 2020 Best of Virginia winners.
Another Way to Enjoy Chatham Vineyards Church Creek Wine
If you don't want to DIY your oyster pairing but still want some fun time away, consider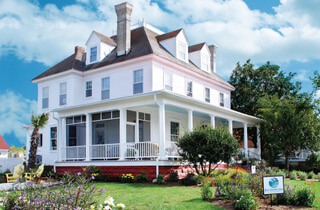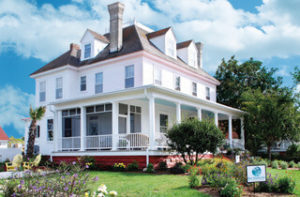 a vacay here at the Bay Haven Inn of Cape Charles.
Every day, we serve Church Creek wine at our "Wine on Your Time," our self-serve complimentary beverage time.
We also encourage you to visit Chatham Vineyards and enjoy their wine tastings. It's just a short drive from the Inn.
In the meantime, here's a quick rundown on each of Chatham Vineyards' incredible wines, perfect for discriminating palettes:
2018 Oak Chardonnay
A round mouth feel with a creamy texture, it's a wonderful combination of ripe pear and apples, notes of lemon zest and clove. Fresh acidity.
Pairs well with cream-based sauces, poultry, shellfish, salmon, and pork.
2018 Church Creek Chardonnay-Steel Fermented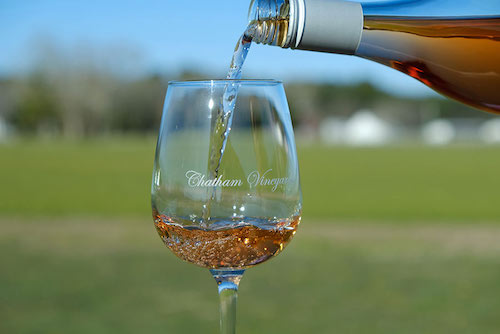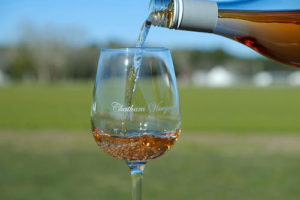 This is one of Tammy and Jim's favorites. It has notes of honeysuckle and pineapple with ripe, sweet stone fruit tangerine acidity. Just a hint of grapefruit.
Pairs well with oysters, clams, and seafood dishes.
Aged 9 months in stainless steel, get the pure flavor of the vineyard, nice, bright crisp acidity
2018 Church Creek Rosé
Pleasingly aromatic and versatile, this Provence-style Rosé has notes of white peach and raspberry. An excellent complement to spicy foods, cheese courses and desserts. It can also be poured over fresh fruit. Add whipped cream or vanilla ice cream.
Pairs well with shrimp, crab, creamy cheese, scallops, and rockfish.
2017 Merlot
Another versatile and food-friendly wine, this Merlot is barrel-aged in new French oak for more than 18 months. It complements a variety of roasted meats and is well-balanced, full of black currant and cherry with hints of brown spice.
Pairs well with roasted and grilled meats.
2018 Cabernet Franc
A lush, ripe wine with prominent berry flavors of cherry, raspberry, and cranberry, this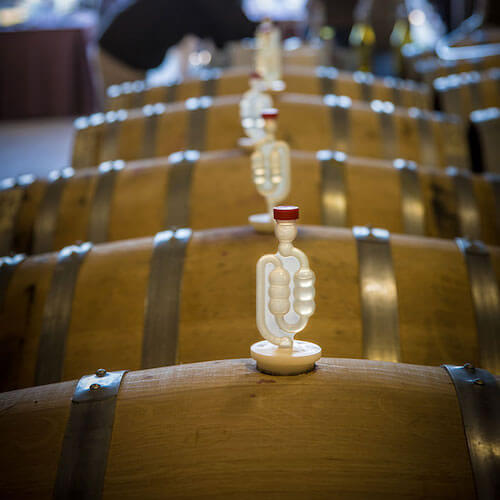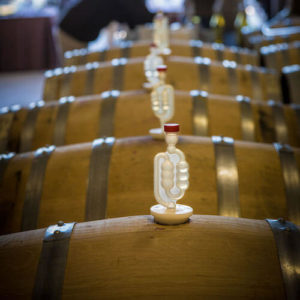 full-bodied Cabernet Franc has fresh acidity and bright minerality on the mid-palate.
Pairs well with roasted chicken, lamb, and pork chops.
2017 Church Creek Vintner's Blend
From the winemaker's select barrels, this elegant Bordeaux-style blend has fresh acidity and bright fruit flavors of black currant and cherry. It also offers flavors of coffee bean, spice, and chocolate.
Pairs well with Gorgonzola cream sauce, venison, flank steak, and rosemary lamb chops.
Late Harvest Red Dessert Wine
A drought wine, the Late Harvest Red Dessert Wine is made by leaving the fruit on the vine to slightly dehydrate. This increases the sweetness and the intensity of flavors. Delectable flavors of spice, tobacco, hazelnut, and notes of dried fruit linger on the palette.
Pairs well with chocolate desserts, seasonal fruit pies, local figs, and blue cheese.
Book your stay at the Bay Haven Inn of Cape Charles and enjoy a wine tasting at Chatham Vineyards!