Bed and Breakfast Wedding at Virginia's Eastern Shore
It looked like the weatherman was right. A strong January winter storm was headed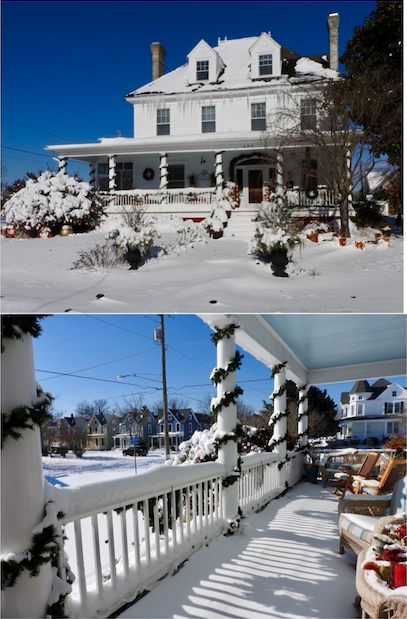 to Cape Charles. That was bad news for Tom and Shawna. They had planned a small, intimate wedding at Bay Haven Inn of Cape Charles. Now, the 2017 blizzard would change all that.
So, as the forever an event planner, innkeeper I gave the couple a call and asked them what they wanted to do. Seemingly nonplussed, they decided to go ahead with their "honeymoon" first. It was already scheduled and couldn't be rescheduled.
And that's exactly what they did! Tom and Shawna packed up and headed out, enjoying a full week of a pre-wedding escape.
That's what we call making lemonade out of lemons.
B & B Virginia Eastern Shore Wedding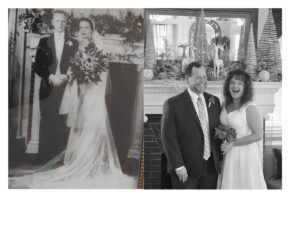 Then on a beautiful sunny day in February, Tom and Shawna came back to the inn to have their wedding. Interestingly enough, the inn, as you know, is an historic home. It was built in 1906 for James and Alyce Wilson for their wedding present!
For Tom and Shawna, the inn itself was the perfect setting for their small, intimate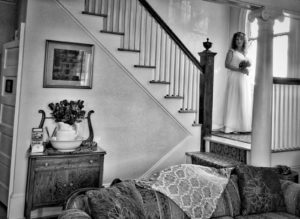 wedding. With beautiful maple stairs and stained glass windows, the inn offered a romantic setting filled with personal reminders of an era gone by.
Gathering in the living room, Jim, Tammy, and the photographer were the witnesses. A local Justice of the Peace performed their wedding ceremony, guiding them in a beautifully moving exchange of vows.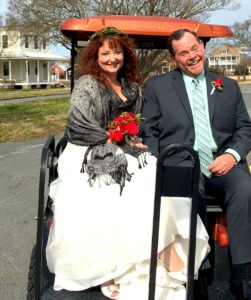 Afterward, Jim and Tammy gave the
newlyweds a ride to the beach in their golf cart, the "Chessy Bay." (After all, "cart life" is the lifestyle in Cape Charles!)
Against the backdrop of sun and water, Tom and Shawna had beautiful pictures taken overlooking the bay. Then they spent another honeymoon night at the inn, what more could you ask for? It was a beautiful way for them to start their life together!
Are you planning an engagement, elopement or small wedding? Take a look at a destination wedding on the coves of the Chesapeake Bay, the Bay Haven Inn of Cape Charles is ready to be your special occasion concierge. You dream it and we will make it happen.