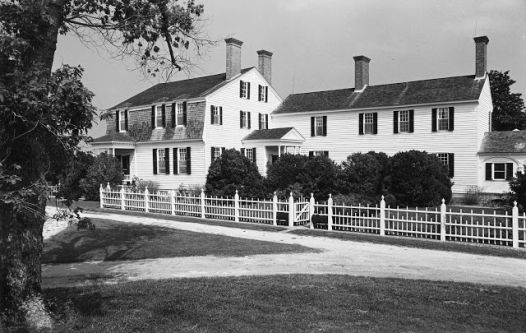 If you've been following our blog for a little while, you may remembering us mentioning Eyre Hall as part of our springtime gardens blog. But we think this gorgeous location deserves a blog all of its own, so keep reading to learn more about this piece of Cape Charles history.
Eyre Hall is a historic colonial home that stands as one of the best-preserved homes in all of Virginia. The original portion of the home was built way back in 1760 by Littleton Eyre, and since then, 12 generations of the Eyre family have owned the building and the grounds. That's a little bit of the history of Eyre Hall, so now let's check out what you can expect to find on your visit in more modern times:
– The gardens. Not only is Eyre Hall part of the annual Eastern Shore Garden Tour, but it also provides parterre gardens for you to enjoy during the entire year (and these gardens happen to be some of the oldest in the United States!). Enjoy a picnic lunch beneath the boxwood and crape myrtles, which will be especially beautiful as spring arrives! (Trivia: The gardens are maintained by Laurie Klingel of Appleseed Nurseries.)
– The house. The outside of the house is a beautiful peek into the past (and is also a National Historic Landmark). It currently includes a two-and-a-half story home, a large kitchen, breakfast room, storage building, a dairy, and formal lawns and fields. (If you're interested in more of the history of Eyre Hall, then click here to read The Magazine Antique's article, which details the architecture, the family, and more.)
Ready for to experience the gardens of Eyre Hall firsthand? Book your stay at Bay Haven Inn of Cape Charles, and start planning your tour!