The Message Buried in Our Historic Walls
You know those historic house renovations you hear about? How the work crews always find something interesting in those old house walls? Well, now we have a good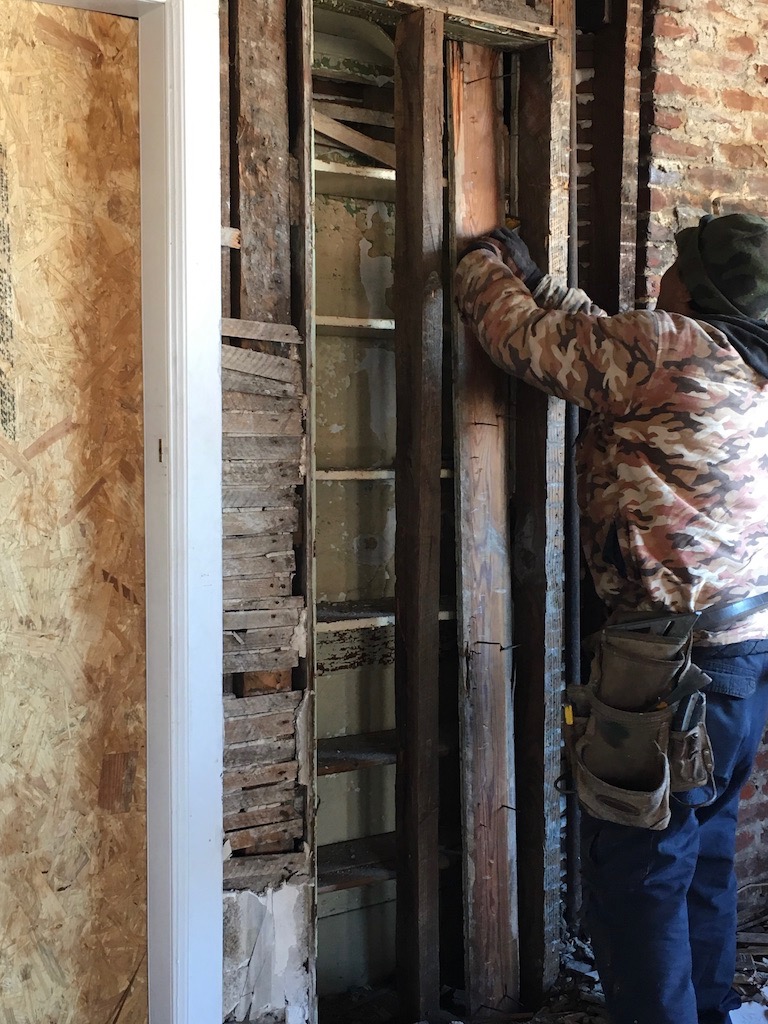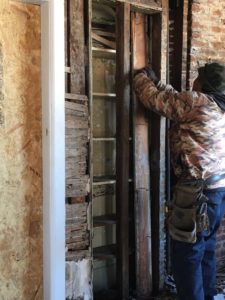 story for you!
On an extremely cold January day with wind gusts whipping upwards of 35 mph, our very dedicated crew took down old tiles and lath on an original kitchen wall in our Inn. When Jim came home from work that day, we went out in the pitch black to check on the progress of the day.
There we were with an iPhone for light, looking through the renovation work. We were absolutely in awe of the original kitchen cupboards we saw. There were 8 shelves, 24" x 8 feet, tucked away in this original wall.
More Historic Surprises!
But that wasn't the only surprise. As we looked closer, we noticed a tiny piece of paper left on the shelf. Thinking it might be the original wallpaper, I wanted to keep it. So Jim picked it up along with a few other items.
When we got back to the house and into good strong light, we discovered that the piece of paper wasn't wallpaper at all. It was a note that said in a younger handwriting, "This paneling was put in by my father Charles Suderno. October 22, 1966."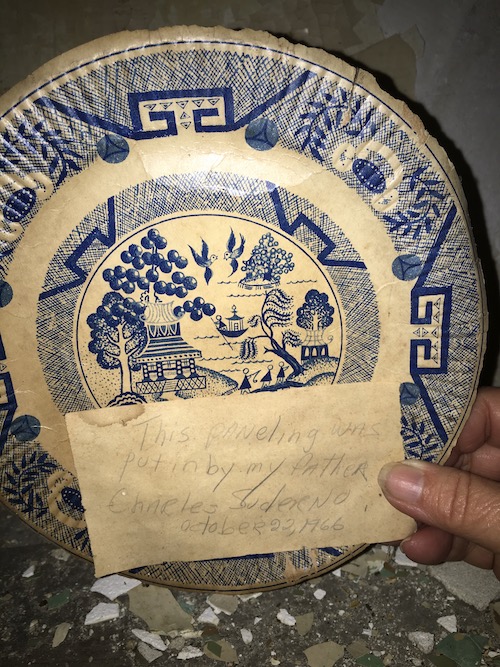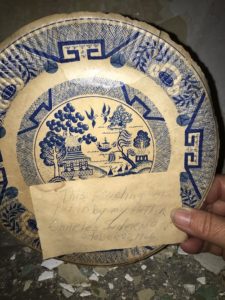 This jaw-dropping discovery left us both in tears and in disbelief because the Suderno/Griffith family lived here after the Wilsons in the 1960's. They were a blended family of 12 that came together in this home, now our Inn, after each had lost a parent.
We befriended Theresa, John, Sandy, Dave and Laura, a few of the children, soon after we moved here in 2011. Jim and I have gotten to know the family over the past seven years, even having some of the sisters stay with us as guests!
They enjoyed sleeping in what was their parents' room, as well as telling great stories about their time in the home. One of my favorite stories was the time one of the children brought in a praying mantis nest in the house and put it near the radiator.
Imagine the children's (and Mom's) surprise when they all hatched!
We have so enjoyed getting to know the house through their young eyes. Now, on a cold winter's night, we were staring at another piece of their history.
How could that tiny piece of paper have withstood those winds? And how in this world had it missed being scooped up with all of the other rubble that day.
That's when Jim and I decided to surprise their family. The surprise had to wait until summer, but it was worth it.
Finally, at the end of the summer, the family had a reunion. That's when we asked them to come over to see the new space. We wanted to re-enact a photo we have of them on the porch at Easter in the mid-1960's.
We gathered the family around the kitchen area that contained the kitchen cupboards. Then we told them our January discovery story. Everybody watch and listened with anticipation as we read the handwritten note of some 50 plus years ago. The entire family hugged each other and tears flowed.
As you can imagine, over the years, we have come to feel a part of the Suderno/Griffith family. It's our absolute pleasure to carry forward the love they had for their former home and give it as a gift to each guest that visits us.
To enjoy the Chesapeake Bay as well as the charm and hospitality of our 100-year-old home, book your reservations here.