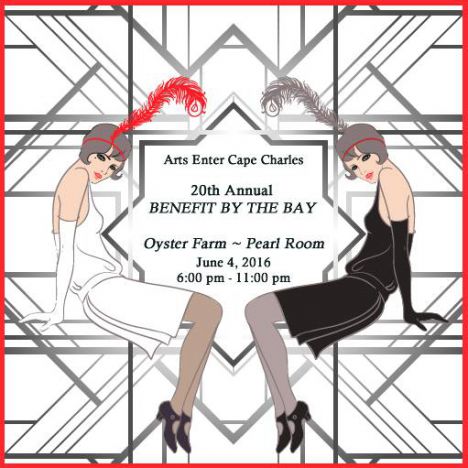 In honor of its 20th year, the 2016 Arts Enter Annual Benefit by the Bay will be celebrating in the style of the Jazz Age! Grab your flapper dress and your fedora, and get ready for the Roaring 20th at Oyster Farm at Kings Creek. Let's check out a few facts about this upcoming event:
–          The Annual Benefit by the Bay is Arts Enter's biggest fundraiser of the year and helps to support everything from stage productions and movie nights to children's summer camps.
–          Tickets are available at Periwinkles, The Lemon Tree Gallery, and Rayfield's and also online at EventBrite.
–          Dress is "20's spiffy" and is optional but encouraged! Who wouldn't want to dress like an F. Scott Fitzgerald character?
–          The Roaring 20th will be taking place on Saturday, June 4, 2016 from 9:00pm to 11:00pm, so you still have plenty of time to start planning your trip to Cape Charles.
–          The Julius Pittman Revival (soul, blues, rock) will be providing the music for the event. They played at the Oyster Farm Pearl Center New Year's Eve and brought down the house! People danced the night away and this encore performance promises to also be a hit.
–          Tickets are $100 a person for a night of great food, soulful music and outstanding fellowship.
–          There will be a Roaring Twenties Selfie Station, where you can dress up in 20s garb and grab the selfie stick and snap and post away.
And speaking of planning a trip to Cape Charles, Arts Enter is only a five minute walk away from Bay Haven Inn of Cape Charles, so if you're in need of weekend lodging for the fundraiser, we're at your service! Click here to book your room now. (Miss our blog about Arts Enter Cape Charles? Read it here.) We can't wait to see you soon!