Springtime Means Gardening!
"In the spring, at the end of the day, you should smell like dirt." ― Margaret Atwood, Bluebeard's Egg
When you check in at the Bay Haven Inn in the spring, you will often find us with our hands in the dirt (or at the very least, smelling of dirt)! Springtime gardens signify the color and beauty that was buried beneath winter's dirt, and Cape Charles, VA is ready to celebrate that floral splendor. Check out the following ideas of how you can enjoy the blossoming springtime gardens around Bay Haven Inn of Cape Charles:
Appleseed Nurseries: This fifteen-year old nursery is owned by two plant experts—Jeff, who has a degree in Landscape Design, and Laurie, who holds a Masters of Science in Horticulture. This couple knows their plants, and it shows in the beautiful quality of the annuals and perennials that grow onsite in their greenhouse. As the Appleseed website states, "We are plant geeks and will always show you something new and unusual. Plant collecting is something of a sport for us, so don't be surprised if you run into a few things you've never seen before." The shop opens on March 20, the first day of spring, so if you're an avid gardener or even mildly interested in plants, don't hesitate to stop by. We do A LOT of shopping at Appleseed, so you just might see us there, scouting out new ideas for the inn's gardens!
Eyre Hall: Erye Hall, which is part of the annual Eastern Shore Garden Tour, offers a look at its parterre gardens all year long. These gardens date back to the 1800s, making them some of the oldest in the United States: "Ancient boxwood and gnarled crape myrtles tower over the traditional swept paths, all enclosed by a wall of brick brought as ballast from England." As you can imagine, these gardens can also serve as a peaceful picnic spot. We recommend grabbing lunch from a favorite spot of ours, Machipongo Trading Company, then enjoying it in the solitude of Eyre Hall's greenery.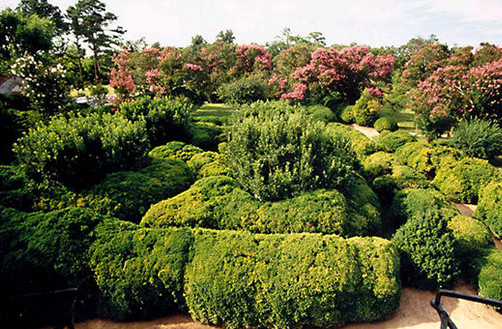 We recommend the "Tour the Shore" path that takes you to Appleseed Nurseries, Machipongo Trading Company, and the gardens of Eyre Hall for a delightful day of gardening inspiration. End the day of course with a cool beverage of choice on our porch, and reflect over this memorable excursion. You don't want to miss springtime on the shore…have you booked your room yet?