After five years of running our inn, we were feeling the need for more space. And boy, did we have a laundry list of needs!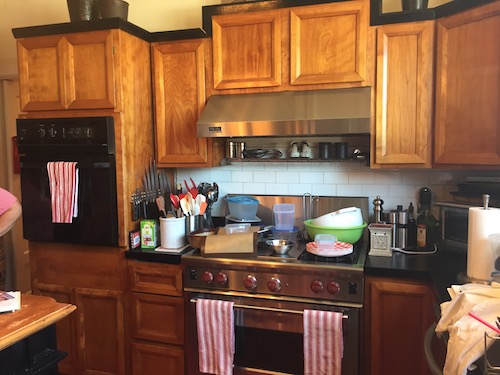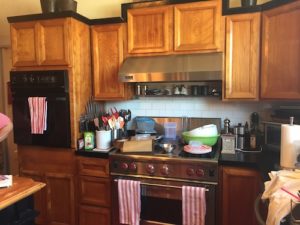 The kitchen needed to be bigger and more functional


More storage space

Additional laundry equipment

Office

Pantry
Plus, Jim and I wanted a place to have dinner and hang out when we didn't have guests. As it was, we ate dinner at the kitchen island and we didn't have a designated dining room or kitchen table of our own to sit back and relax.
Putting Our Dreams In Competent Hands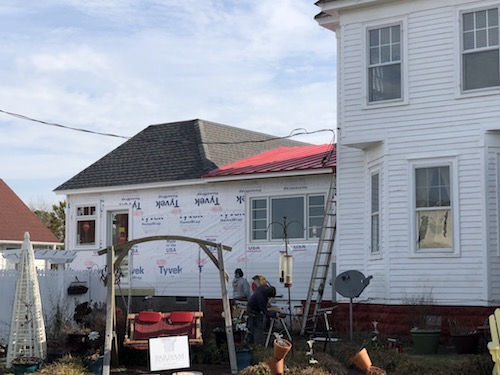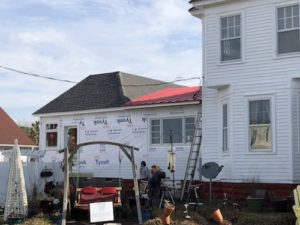 With our dream list in hand, we contacted Leon Parham, a historic architect, who understood our ideas right away.
We were so lucky to hire him! Not only was he perfect for preserving the integrity of our 112-year old gal, but he lived in this house before we did.
Back in the mid-'90s, he and David, his partner, transformed it from a single family home into a B & B. Needless to say, Leon knew the needs for the business and innkeepers VERY well. He did an excellent job designing and ensuring the addition blended into the original structure.
What's more, Leon is an expert in historic renovation. Since we live in the Cape Charles historic district, he was a great ally in getting our plans easily approved.
Fortunately, we can. Walter Frisch is the contractor who helped us achieve our renovation dreams. He was a joy to work with from beginning to end. We realize not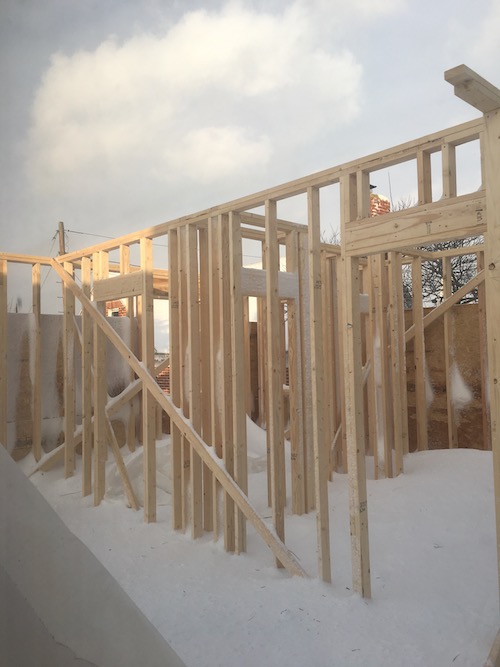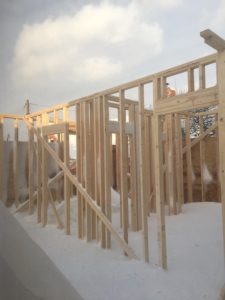 many people can say that about their contractor experience. We're delighted that we can! He happily worked with our favorite electrician, plumber, etc. we most definitely had the reno dream team.
And he and his team greeted us daily with smiles while working hard through some brutal winter nor'easters. (There were five nor'easters last winter and the addition was located on the north end!)
As for the kitchen, Jim and I are both foodies, so it's our second home. We knew we had to find the right person to understand and respect our specific, unique needs. We also learned a few important and technical terms along the way, like "two butt kitchen," "the beast," and "the B & B wall."
After talking to many kitchen design companies, we found Jenn Carp with B&T Kitchens. When we described our current challenges with the old space, we told her we were constantly saying, "excuse me," "excuse me" to each other while we worked in the kitchen. That's when she said, "Ahh, you need a two-butt kitchen." And that's when we knew we'd found the right person!
Jenn helped create some horizontal, clutter-free workspace. Then came the cabinet storage space we desperately needed. Finally, we created "the beast" of a kitchen island. And oh, how we love thee!
As the original kitchen roof came down, we discovered the rich quality of 112-year-old wood. Would you believe 2 x12's? We didn't know how but we knew we wanted to work that into our new space. And we did! Our buds Curt and Sally Lewin, at the Windsor House created an incredible barn door for my dream-come-true pantry, a coffee table and counter tops for the mud room out of that salvaged roof wood.
We wanted to continue the feel of the colonnade, pillar style in the main house. You'll see that in the kitchen cabinets. All of the doors were salvaged from all over the Shore along with a stunning fireplace mantle that has a similar architectural feel as those in the main house parlor and living room. It's pretty special because it was salvaged from Lexington, VA, which is where Jim went to the Virginia Military Institute.
Personal and Professional Challenges of a Business Renovation
Whenever you renovate your living space, it's challenging because your personal space is disrupted. When you add running a business from your live-in space, the stress is magnified!
That's why keeping a building deadline is always important. But when you run a business from your home, it's critical.
Our goal was to be done by mid-April. Until then, we used the historic home next door to serve breakfast making sure construction didn't begin until after 10 a.m. each day so we didn't disturb our guests.
But that had complications because it sold and we had a deadline to be out of the house. Finally, the kitchen portion was ready and with a huge sigh of relief, we moved back into our newly renovated space. The great room was still under construction, but we were able to make it work.
Alas, our new kitchen was ready the last week of April just in time for a full house for the Eastern Shore Historic Garden Tour.
Life After Renovation
With high season upon us, we unpacked and organized like crazy. And what a pleasure it was!
We loved every little detail from the double roll-out drawer for plasticware, the easy glide French door double oven, the full-size individual refrigerator and freezer, to the designated "B & B wall," exclusively for breakfast dishes. It was a whole new world and we loved it!
Now Jim and I have a beautiful view of Cape Charles Central Park while having friends over for dinner and enjoying our guests to the absolute fullest. It is such a blessing!
We're grateful to all the professionals who worked with us to realize our renovation dreams. Right from the start, they really got what it was we wanted to do.
Now we can't wait to share this new space with you and share our journey! You're going to love it as much as we do. So come and enjoy some downtime and book your getaway to Cape Charles.
A little teaser for those foodies out there…."the beast" lends itself naturally to host cooking class weekends for guests! Stay tuned for more details on that!