Oh how we all love Food and we certainly love Fridays! So I decided to combine these two great loves and try and put out a Foodie Friday Blog! One of the great things about running a bed and breakfast is trying out new recipes or creating new concoctions.  And one of the greatest things about my partner in crime and loving husband is his understanding of my love for Peanut Butter, Bananas and Chocolate!
Even knowing this, I was surprised yesterday as I came down for breakfast, we had no guests so it was an experiment day, I was greeted with the most wonderful aroma of waffles. But something was different about these waffles they had a beautiful color and could it be I smelled Peanut Butter? Yes! Today's creation was a lovely peanut butter and banana waffle with mini chocolate chips melted on top, it was wonderful. But as we ate the dish we brainstormed on what would possibly make it better? Ganache…yes a chocolate sauce poured over the waffle just before service, garnished with fresh fruit and wahlah…a guest breakfast was born.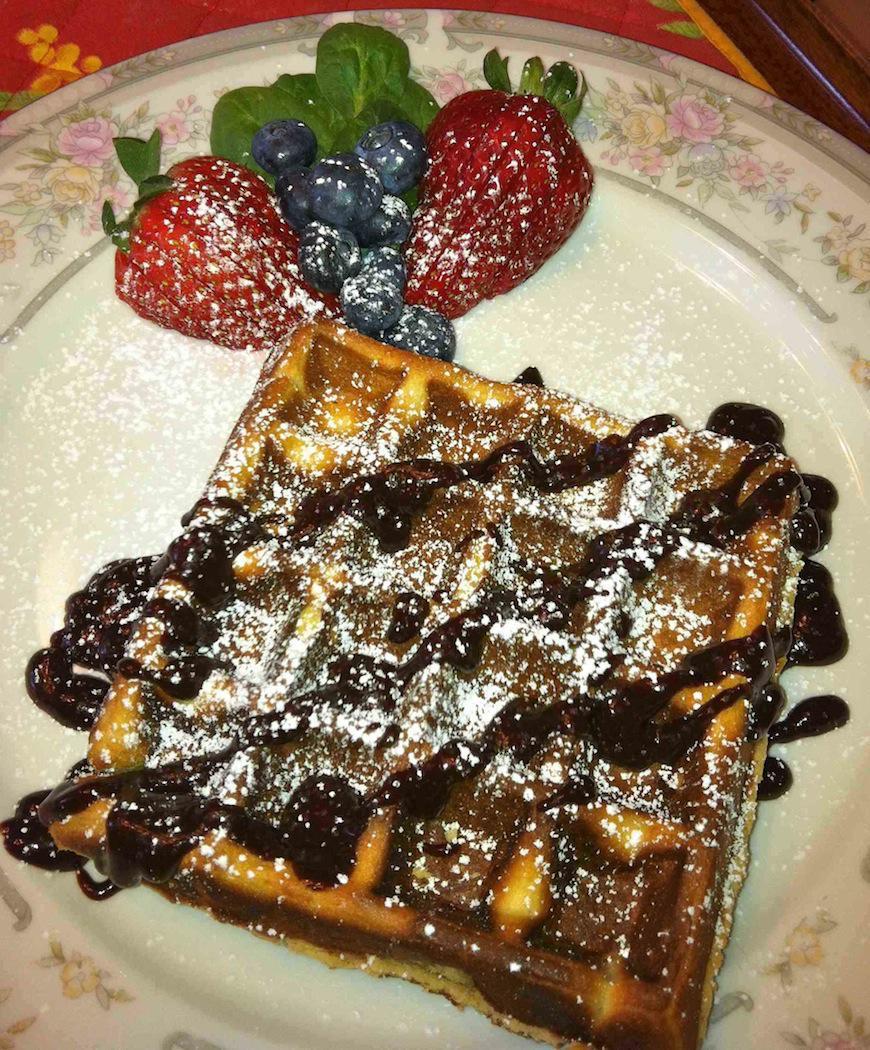 This weekend we shared it with our guests, who are thinking of Virginia's Eastern Shore, specifically, Cape Charles as a wedding location, and they LOVED it! Bonus!
The sweetest part of the story is that Jim actually made ganache for the first dinner that he prepared for me…it was love at first bite as I tasted those triple chocolate brownies!
The next day we ended up taking the brownies along on a picnic, as we fell in love under the beautiful cherry blossom trees in our nations capital at the National Cherry Blossom Festival (with a few hundred thousand of our closest friends). In fact that picnic was around this same time of year 8 years ago, who would ever imagined that day that we would have been blessed to be able to realize this amazing dream of opening our on Bed and Breakfast….incredible!
So what is your Foodie Friday thought to share?