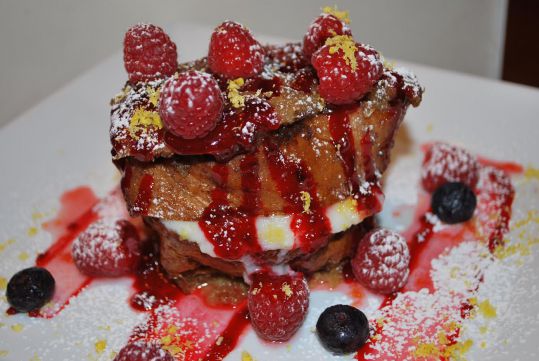 Sometimes you just get tired of cold cereal and milk in the mornings, right? But maybe you can't make it to Bay Haven Inn of Cape Charles for a while, or maybe your getaway is still months in advance. Whatever the case, your mouth may be watering for a hot B&B breakfast, so let us help you with our recipe for Ooey Gooey Stuffed French Toast:
Ingredients
5 eggs
1 1/2 cup half and half
1 teaspoon cinnamon
1/2 teaspoon salt
2 tablespoons Grand Marnier
1 teaspoon vanilla
1/8 teaspoon ground nutmeg
8 tablespoons unsalted butter
2 tablespoons white corn syrup
1 cup packed brown sugar
1 loaf French bread
1/2 cup confectionary sugar
1 tablespoon fresh lemon juice
2 teaspoons lemon zest
1/2 cup ricotta cheese
1/2 cup raspberry preserve
2 tablespoons pancake syrup
2 teaspoons water
Directions:
1. In a large bowl, beat together, eggs, half and half, cinnamon, salt, vanilla, Grand Marnier and ground nutmeg. In small saucepan, combine unsalted butter, white corn syrup and brown sugar to make the crème brulee sauce. Bring to a boil and poor hot mixture into a greased 9 x 13 x 2 dish.
2. Cut bread into 1-inch slices, and assemble tightly on crème brulee in baking dish. Pour egg mixture from Step 1 over bread. Refrigerate covered overnight, then bring to room temperature for 30 minutes and bake at 350 degrees for 35 minutes. Take out of oven and run knife around edges of bread slices. Let cool for 5-10 minutes to set.
3. Lemon Ricotta Filling: Combine confectionary sugar, fresh lemon juice and lemon zest, fold into ricotta cheese and refrigerate to set.
4. Raspberry Sauce: In a small saucepan add raspberry preserves, pancake syrup, and water, bring to a boil and reduce to a thick consistency.
5. With a small pastry brush, smear raspberry sauce on a serving plate. Place one piece of French toast on plate, crème brulee side down. Spoon 2 to 3 tablespoons of lemon ricotta filling on French toast, and add second piece of French toast, crème brulee side up. Drizzle raspberry sauce and garnish with fresh raspberries and blueberries, then sprinkle with lemon zest. Dust with confectionary sugar, then eat and enjoy!
Do you have a favorite French toast recipe? Share it on our Facebook or Google+ page!