We are introducing our top 5 shops showcasing local makers in Cape Charles. Whether you're shopping for yourself or loved ones on your holiday shopping list, these shops offer unique and special items. We can boast a bit — our pride in our local artist must shine — we think you'll agree. We love to share tips on finding treasures and hearing about your shopping successes!
1. Cape Charles Candy Company
Warning: your mouth may start to water while reading this. Cape Charles Candy Company makes new batches of fudge every day. Need we say more? Oh, but there is more. The shop uses fresh ingredients, including natural cream and butter, and locally sourced additions such as the Barrier Island's Salt and the Eastern Shore Coastal Roasting's Marsh Mud Coffee. Free samples are available every time you shop; we suggest peanut butter chocolate. Hand-scooped ice cream, can\dy, and local gifts are also available.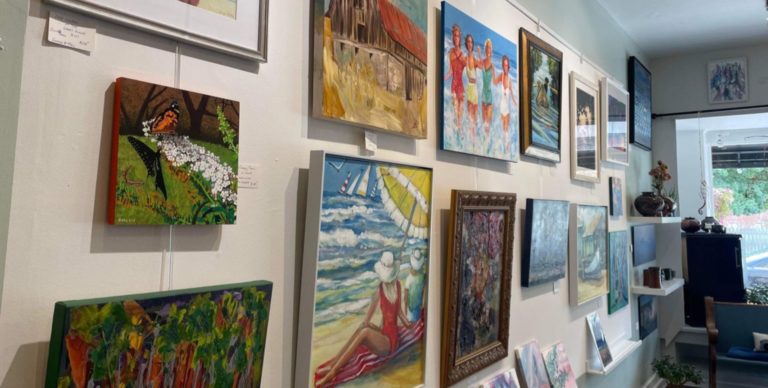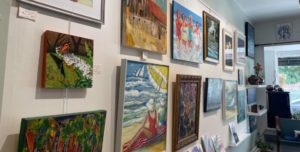 2. Local-ISH Art
Local-ISH Art makes sure that artists from the Eastern Shore have an opportunity to display and sell their pieces. You'll have a chance to see their beautiful work, and then you can select some of your favorites. Maybe you'll find an oil painting or a watercolor piece that would look perfect in your living room. Possibly you'll find a selection of jewelry for that perfect gift you need. The pottery and sculptures are expressive and one-of-a-kind. Even the graphic stickers could be a great addition to one of your gifts.
3. Moonrise Jewelry
Ever heard of fish leather? Well, Moonrise Jewelry certainly has. Their designer, Meredith, travels yearly to select beautiful pieces of fish leather from Iceland to bring back to Cape Charles. Fish leather is an eco-friendly use of the by-product of fish skins from the seafood industry. Artisans transform the dazzling patterns of the skin and scales into jewelry pieces that can only be described as masterpieces in all shades of the rainbow. This jewelry and other wearable art are yours for the shopping.
4. Peach Street Books
Just visiting the building itself of Peach Street Books is a fun experience. What used to be a Pure Oil gas station back in the 1930s is now transformed into a bookshop loaded with new and gently used volumes. The owners, sisters Carol and Beth Ann, carefully revived and restored the building and filled it with treasures for you. Take some time to flip some pages and enjoy a latte or other hot drink from the kitchen coffee shop. Experience a pleasant afternoon here, and we know you'll pick up something that interests a reader in your life.
5. Seagrass Floral and Apothecary
Last, but certainly not least, on our alphabetical list of local shops is Seagrass Floral and Apothecary. We know we said we are highlighting local makers on our list, and Seagrass has an abundance of creativity. Create your own jar or container filled with living art at their terrarium bar. Add yourself to the list of creators in Cape Charles! Seagrass Floral and Apothecary displays a broad range of in-house-made self-care products. Some of our favorites are bath salts and body lotions. Sugar scrubs and lotion bars with all-natural ingredients would make some lovely stocking stuffers and teacher gifts.
Always the Saturday after Thanksgiving, the Artisans Guild Studio Tour is worth the wait. This annual event, this year marks the 20th, showcases so many of our local talented makers. You'll want to experience it all – "…the home studios, a vineyard and historic locations between the Chesapeake Bay and the Atlantic Ocean."
We hope you feel as excited as we are for all the talent and beauty from our makers. These local artisans inspire us with their creativity. We're thankful they share with us. Enjoy working through this top 5 shop list of local makers here in Cape Charles, VA. We will be waiting for you back at the inn with a crackling fire and a glass of wine or a cozy cup of cocoa. Plan a few days to enjoy the shopping we have waiting for you.