Is It Time For a Girlfriend Getaway?
All fun. No stress. And most importantly? NO BOYS! (Sorry men…) This is what a Girlfriends' Getaway is all about!
Do you need to reconnect with your friends? Want to relive the fun and exciting sleepovers you had as a child? Girlfriend Getaways mean that you get to stay up as late as you want, eat tons of junk food, and watch chick flicks all night long–if you desire. And the best part? You don't have to sneak wine and beer into your room anymore–because now you are legal!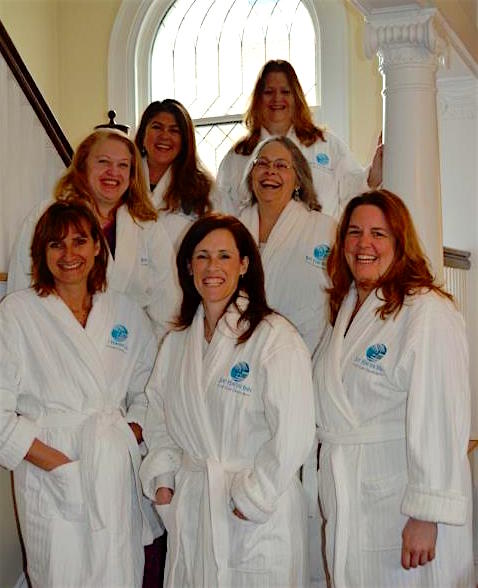 Our Girlfriend Getaway package is designed with you and your friends in mind. Your group will have Bay Haven Inn all to yourselves! This means you can reunite with high school or college friends, throw a scrapbooking or painting party, or anything else you'd love for us to help you create!
The Bay Haven Inn of Cape Charles is located in a charming area of town where you can catch magnificent sunsets on the bay, stroll the quiet streets, peruse the quaint shops, and enjoy our large wrap-around porch and beautiful gardens. We want you to relax and enjoy your stay, so we've sweetened the Girlfriends' Getaway Package with a few special perks:
Chocolate, chocolate, chocolate! Sweet treats and decadence will surround you!
Settle in for the weekend at our Friday Night Hen Party. Enjoy all the snacks your heart desires, along with beer, wine, or non-alcoholic beverages and desserts of your choice.
Do not worry about makeup or hair! You can come to breakfast in a Bay Haven Inn Signature Robe.
On Saturday, forget watching your carbs–enjoy a delicious, award-winning breakfast with a Mimosa or Bloody Mary.
Indulge in a massage (or other treatment) on Saturday at Breezes, our local spa (taxes and tip not included).
Enjoy a wine and cheese picnic basket for sunset celebration
Watch chick flicks on Saturday night after dinner and yes, popcorn and snacks are included!
What are you waiting for? Grab some girlfriends and head to the Bay Haven Inn of Cape Charles for a weekend filled with fun, food, and friendship!