Do you remember these lyrics from the great Roy Orbison?
"Where those fishin boats with their sails afloat, if I could only see/That familiar sunrise through sleepy eye-eyes, how happy Id be…"
While Orbison was talking about Blue Bayou, he may as well have been talking about the Chesapeake Bay and Bay Haven Inn of Cape Charles!
It's hard to tell how many of our guests have echoed those very same sentiments over the years. The reason is simple. Cape Charles is a small community with a big heart! Combine that with the natural calming effect of the Bay, and you have a match made in heaven.
From Chesapeake Bay B & B Guest to Bayside Homeowners!
The Bay does have a powerful effect on our guests. So much so that in the 7 years that Jim and I have owned the Inn we can count at least 15 couples who moved here because of the area. Or as Leslie "LD" Davis and Robert Suppa say, "Warn people that they put something in the water. So that when you go there, you buy a house!"
While we may not really put something in the water as Robert says, we do put everything we've got into making your stay as relaxing, pleasurable, and memorable as possible.
And for some guests, that translates to moving to the area! For the majority of our guests, though, Cape Charles and the Inn remain their go-to choice for vacationing.
Home Away from Home
For us, we know that while people enjoy getting away from home, they also want to feel the same sense of comfort and inclusion they feel when they are at home.
People want that sense of community wherever they go!
"We've brought family and friends back with us to Bay Haven Inn of Cape Charles. Every time we go back, we feel like we're returning to old friends that spoil us rotten. Jim and Tammy are incredibly warm and anticipate your needs…" Joan Childs
Jim and I both believe it's incredibly important to make your stay a home away from home. After all, this is your time away from the stress of everyday life. We want you to really relax and enjoy yourself! We take our middle name "haven" seriously!
That's why we try to handle all the little details of your stay so you don't have to.
Vacation Scheduling and Dining Out
It's fun to eat out and go places you've not experienced before. That's what vacationing is all about. That's why we don't just tell you about the best places to eat or the places to enjoy at the Bay. Instead, we'll make all the arrangements as well!
Joan Childs, one of our returning guests said it this way:
"They encourage us and make it easy for us to have that time together and not worry about what's next, of getting something done. That's the most precious thing about it. We can go and enjoy the time."
When you vacation, you want to spend as much quality time as possible doing exactly what you want to do. You don't want to have to spend extra time trying to figure what places to see or where to eat. We understand that.
That's why we like to tell our guests that we're their traveling concierges. Quick tips to make your Cape Charles experience exactly what you want is just a text away!
Not only that, when our guests return each year, we know which ones are porch sitters, which ones are adventure seekers, and who are our foodies! We are always prepared to make each person's experience just what they want it to be.
This is their time to let vacation brain kick in!
"They recommend restaurants and call to make reservations for us. Tammy goes above an beyond. We enjoy staying at Bay Haven so much!" Kathy Croley
And Then There's Breakfast
The Virginia bed and breakfast industry is known for breakfast, that's a given. But have you ever had a Bayside breakfast?
Here at Bay Haven Inn of Cape Charles, breakfast is always homemade, but with a twist. Read more about our award-winning sweet potato biscuits!
In the summer, a portion of our breakfast comes from our garden. And we make all our own jams and jellies. Guests love our sweet potato biscuits! (When we know that Joan Childs is coming to visit us, we make them because we know she loves them so much!)
"Breakfast isn't your typical scrambled eggs and bacon. All sauces, jams, fresh vegetables, and fruit come from Tammy and Jim's garden," Stacey Queensberry
We're also sensitive to your dietary needs and restrictions. That's why we take care to ask about allergies and sensitivities.
"Both Tammy and Jim are sensitive to your needs, whether its food, comfort, or interests…they make sure you are content." Catherine Lively
The Inn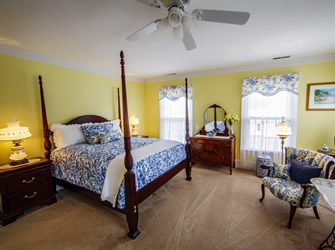 To round out your Chesapeake Bay vacation, you want excellent lodging too. You'll find every room at the Inn is well-appointed and immaculate.
We want to make sure each guest feels at home, and that they enjoy their time at the Inn itself and with other guests!
"A lot of people convene in the living room. That's how you get to know the other people staying there. We've become good friends with another couple that was staying at the Inn." Doug and Kathy Croley
You'll also find wonderful little spots around the Inn where you can gather with friends and loved ones privately. This is the time you've carved out to spend with others. Take advantage of it!
"They encourage us and make it easy for us to have that time together and not worry about what's next, or of getting something done. That's the most precious thing about it. We can go and enjoy the time!" Joan Childs
The Cape Charles Getaway Experience
Do you want your lodging experience to be as much a part of your vacation as the Bay itself?
We get it! Vacationers just like you want a getaway from their everyday lives.
But they also want the comforts of home, the community, and the fun! That's why so many vacationers return to Bay Haven Inn of Cape Charles year after year.
"Every time we go back, we don't think about where we're going to stay. That's our only option for Cape Charles." Stacey Queensberry
Book your stay with us here and enjoy an Eastern Shore vacation like no other. Get the tranquility of the Bay. Get all the comforts of home. Have fun with us!