You're probably wondering why you haven't heard from us in almost a year. Well, it's quite a story, one that will have you shaking your head.
After Thanksgiving last year, we began renovations on our small kitchen. It desperately needed it because we lacked storage, general kitchen, and office space. To get us through the renovation, we had rented the house next door and moved all of our kitchen stuff there.
Can you imagine running a bed and breakfast with your kitchen as one big demolition area? It was a bit stressful trying to keep up with running a full-service breakfast kitchen from next door. But we managed to deal with controlled chaos pretty well!
Here's Where the Story Gets Weird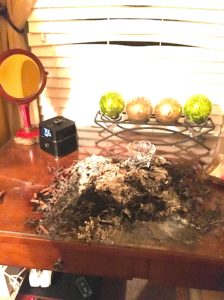 To say that 2018 started off with a bang isn't far from the truth! Jim, my mother, and I decided to ring in the New Year by heading across the Chesapeake Bay Bridge tunnel to run some errands. (No small journey on that gorgeous 23-mile bridge.)
Typically, when we take this trip we stay ALL DAY to get the most out of the toll! But it was miserably cold and we decided to head back after a few hours to have dinner at home by the fire to warm up.
As soon as we opened the door to the inn we smelled smoke. Initially, we thought it was from outside, perhaps someone had a fireplace burning and the smell had snuck through our plastic wrapped backside where the reno had begun.
Jim and I headed upstairs and immediately knew it wasn't that, we could visibly see the smoke!
We went room to room and Jim noticed from across the room a pile of gray something on our desk in a guest room, beginning to billow to the floor.
On the tempered glass covering the top of the desk was a pile of ash, looking much like the inside of a charcoal grille. Jim pointed to the tabletop magnifying mirror and said, "There's the culprit." Eagle Scout Jim to the rescue!
Incredibly, the position of the magnifying makeup mirror had caught the sun's rays and ignited the basket of towels sitting nearby. The intense heat shattered the glass and had started to burn the desk underneath, with ash burning the carpet, pillows etc. below.
We can't make this stuff up, folks! I thought this only happened on the Discovery Channel!
Fireman Can't Believe It Either
Our next door neighbor who is also a fireman came over and examined the room. He couldn't believe it either. He told us he'd never seen anything like it.
Nothing else in the room was hot, not even the Christmas decor on the table or the mantle decor draped near the table.
It was just the desk and it had reached 450 degrees! If we had not arrived when we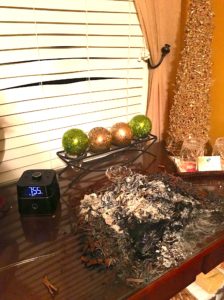 did, the entire room would have been in flames.
As you can imagine, the damage from the fire required us to spend quite a bit of time getting the room repaired and ensuring the smoke damage was remediated from that floor.
This set back required us to be closed for a few months but we decided to make some lemonade out of these lemons by updating a guest room and refreshing other spots within the inn.
Between dealing with a makeshift kitchen and repairing the fire damage in our guest room, it's been a whirlwind year!
Thankfully, after 10 months, life is finally returning to normal! We are enjoying our new kitchen just in time for the summer season (keep your eye open for that transformative story!) and a newly restored guest room.
We know we are so VERY BLESSED as this could have been such a different story.
The Town of Cape Charles has had a transformative year as well. Check out a future story on a "Grand Opening Golf Cart Parade" with Governor Northam for 14 new businesses! If you haven't been in a while you better head back soon!
We are so glad to get back on track and look forward to bringing you news from the Bay and from Bay Haven Inn of Cape Charles.
Stay tuned! We have lots of good stuff to share.