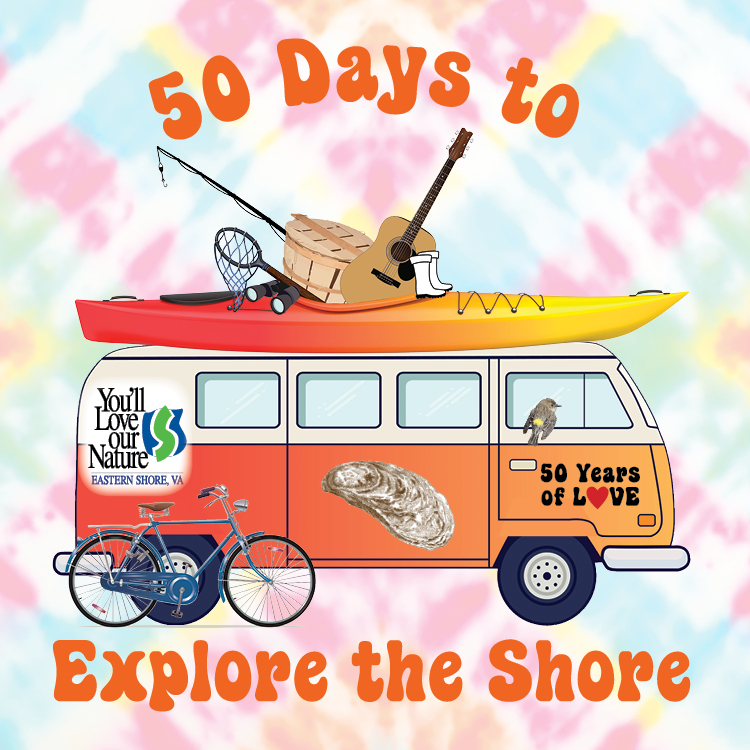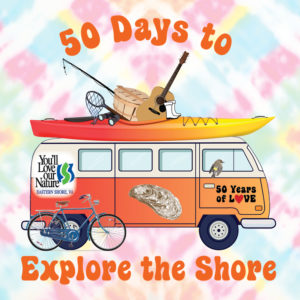 With more temperate weather ahead, planning a fall getaway to Virginia's Eastern Shore is a cool, fun adventure you don't want to miss!
So what's the best way to do that? That's easy!
Take part in the Eastern Shore of Virginia's 50 Years of Love celebration, 50 Days to Explore the Shore scavenger hunt, on now through November 19th.
What better way to sip award-winning wines, sling back oysters, take part in a variety of events, and dance to super groovy tunes while making memories that last a lifetime?
How to Take Part in the Eastern Shore Scavenger Hunt
You already know that Virginia's Eastern Shore has a ton of things for you to do. Many times, the big question is, "Where do we start?"
There are so many events, museums, and sights to see around the Shore. That's where the scavenger hunt can make it easy for you!
With more than 30 local partners, there's an abundance of Shore discoveries waiting for you.
But first, let's start with the rules. (You'll love them!)
Participants must visit 5 locations, including at least one festival, one museum, and one location to complete the hunt.
Those who attend an event will get 5 extra entries into the raffle. The winner will receive a gift basket filled with merchandise from scavenger hunt business partners.
Get a hole punch at each of the events, museums, and drink locations you attend. For historic and outdoor sites, post a photo on either Facebook or Instagram and tag VisitESVA and Virginia is for Lovers.
Be sure to use the hashtags #visitesva and #sharewhatyoulove. For birding locations, just take a picture of your favorite bird. Fun, huh?
To download the brochure with all the info, click 50-days-brochure.
Here's the Best Part of the ESVA Scavenger Hunt
YOU plan your perfect scavenger hunt itinerary.
Champagne and oyster lovers, you'll want the Chatham Vineyards Merroir & Terroir Oyster Fest at the top of your list.
Want to spend some time wandering through nature? Add in Brownsville Nature Preserve.
History lovers, visit the Ker Place, one of the most beautiful historic sites in the area. Then go for some delicious local brews at Black Narrows Brewing.
Bird lovers can watch migratory birds at the Eastern Shore of Virginia National Wildlife Refuge wing their way across the water.
The point is, you're in charge. Build your scavenger hunt around what you enjoy. Isn't that a wonderful way to easily plan out your Eastern Shore vacation getaway?
Raise a glass. Explore the great Eastern Shore outdoors. Indulge in the best seafood on the East Coast. It's all waiting for you through November 19th.
Book your reservation with us and we'll make sure to visit and enjoy. Plus, we'll always have a gourmet breakfast and hot cup of Bay Haven Inn of Cape Charles' signature gourmet coffee waiting for you in the morning!