From festive office parties to family get-togethers, the one thread that weaves the holiday season together is connection.
Wanting to connect with others, to make others feel good is a distinctly human quality. And the holidays give us a reason to celebrate it! But there is a rub.
For the people closest to you, it's sometimes difficult to show them exactly how much they mean to you. The holiday gift you think is perfect gets a polite thank you and is tucked away.
This is especially true for the "big" people in your life. Think parents, grandparents, your spouse. (Got other important, hard-to-buy for people on your list?) After so many Christmases, it's sometimes hard to come up with a truly special gift.
How to Buy the Holiday Gift That Never Gets Return
For the people in your life who don't want another sweater, another piece of jewelry, or a gift card to a local retail shop, consider giving them something completely unexpected–the gift of experience.
As the innkeeper of a Cape Charles bed and breakfast, I can tell you firsthand, that people love and appreciate it when their family members gift them an Eastern Shore getaway!
This gift is one that creates memories they share year after year. And it's a gift you know will "fit." Plus, it's easy on the knees and good for the heart!
Our Inn is an easy four blocks from the Chesapeake Bay, and within walking distance of great shopping, restaurants, access to the premier resort, Bay Creek which has signature Palmer and Nicholas golf courses.
The Easiest Part of An Eastern Shore B & B Getaway Gift Card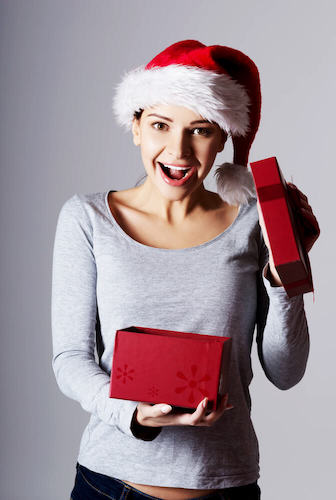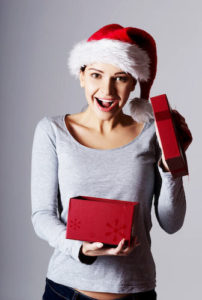 Besides the tremendous joy it gives your loved ones to take advantage of such an unusual experience, it's so easy for the giver, too!
Givers often think that when they purchase the gift certificate they have to choose a date to go with the gift card. Not so!
Just choose the amount you want for your gift-giving experience. Decide how you want to give the card to your loved one. Then sit back and enjoy the delightful expression on their face.
How easy is that? And how memorable!
And if you want to enhance your gift, we've got several recommendations:
Add our Sunset Celebration package

which includes your choice of champagne, wine, beer, or a non-alcoholic beverage, along with a variety of appetizers. Let your loved ones enjoy one of the most glorious sunsets in the world!

Add a restaurant card to your b&b gift card
Gift cards are available to local restaurants, the Bay Creek Resort, and more!
The point is to give a gift that delights without adding extra work to your already busy holiday season. Want some help with that?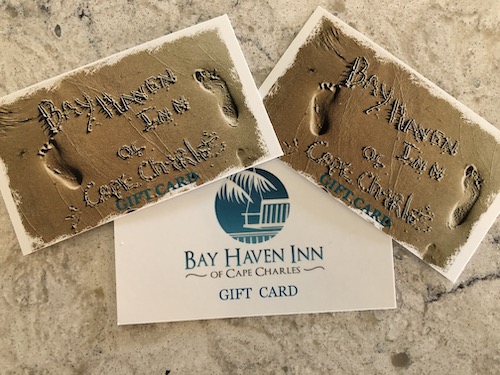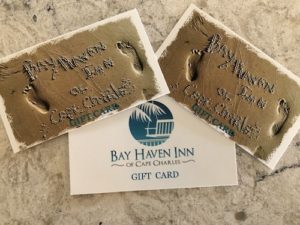 The elves at Bay Haven Inn of Cape Charles can take care of this important holiday gift for you! Just click here to grab your gift card. You'll feel like a kid at Christmas when you see the look of surprise and delight on your loved one's face.
Get that camera phone ready! Holiday gift-giving made easy starts here.