My name is Beth Sauter. I am the newest addition to Cape Charles now that I am interning at the Bay Haven Inn. I am a college student at George Mason University in Fairfax, Virginia, majoring in Tourism and Events Management, with a concentration in Hospitality. Over the summer I am living at home in Chesapeake and trekking across the Bay Bridge Tunnel to learn from the best: Jim and Tammy Holloway, the owners of the Bay Haven Inn of Cape Charles.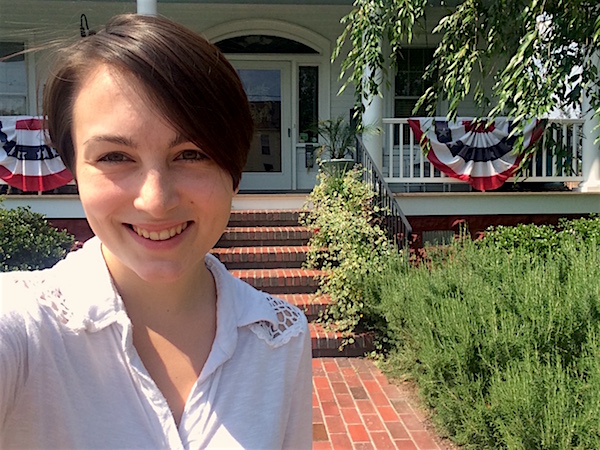 Allow me to tell you about myself. For starters, hospitality is more than a field of study, or a job for me…it is a lifestyle. I have always wanted to be an innkeeper, or an hotelier, or a restaurateur…anything where I could take care of people and make them feel special. I have a lot on my resume, at only 20 years old, but I am most proud to have fine dining experience, full-service hotel experience and now a summer working as a part-time innkeeper. I am so passionate about guest servicing that I am willing to let my budding career take me wherever it will. I will complete my Bachelor's degree next summer, in a total of just 3 years of school.
As a lover of hospitality, I am already in love with Cape Charles. The small town feel is so charming, and when you first experience it, you cannot even believe the way that everyone knows everyone. There is so much history here, and so many great things developing as we speak! I have felt so welcomed, having so far visited the Coach House Tavern at Bay Creek, and having tried some amazing seafood at .Hook-U-Up Gourmet My goal is to meet every business owner, to tell them my story, and to learn theirs too.
I met Tammy Holloway at the Bed and Breakfast Association of Virginia's annual conference, where I was volunteering and networking, thanks to Amy Hager of the BBAV. After we started talking for a while Tammy invited me to intern with her over the summer, to learn about the inn keeping first hand- little did she know this was my dream come true.
To first introduce me to what the Bay Haven Inn is really all about, Jim and Tammy invited me to spend the night as a guest while I was on my spring break. From the moment I arrived I knew this place was special. I have since told my friends it is like walking into an episode of Gilmore Girls, where the town is full of characters and the charm is a part of everything. I got to hear about the history of the house and the town, I got to sit and enjoy a phenomenal breakfast, and I got to explore the shops and restaurants on Mason Avenue. Tammy made me feel right at home. Her attention to detail is exceptional, which makes for a very personalized visit and a beautifully kept home. The porch and the garden are spectacular- I could sit outside all day with a good book and a cup of their house-blend coffee.
When I work with Tammy I learn so much about hospitality, guest servicing, business practices, and marketing techniques. I constantly say things like, "Wow, I never thought about that", because running an inn takes so much organization and research, some trial-and-error and plenty of Pinerest browsing to get certain things just right.. It is my dream to one day have a bed and breakfast of my own so I am taking copious notes from Tammy every chance that I get. Tammy empowers me to look into different aspects of the business that I am passionate about and she gives me projects that let me make my mark on the Bay Haven Inn.
If you see me walking around Cape Charles, or see the little yellow punch bug parked outside of the Bay Haven Inn, please, be my guest-stop by and talk with me! You will know it's me because I am always smiling and forever excited to be here.
See you on the porch!