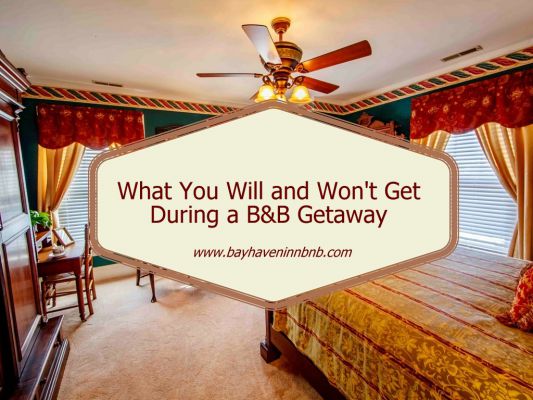 Many people wonder about what you can expect to get when you're staying at a B&B like Bay Haven Inn of Cape Charles. Keep reading to find out the answer to this question along with three things you WON'T get on your B&B getaway.
What you WILL get:
A gourmet breakfast. Breakfast is half of a B&B, right? At bed & breakfasts like Bay Haven Inn of Cape Charles, you'll enjoy sweet potato biscuits with Virginia country ham, egg dishes, pancakes and sausage, and fresh, hot coffee. No boring continental breakfasts here!
Comfy beds. Since a bed is a crucial part of your overnight stay, innkeepers make sure you have the best. We frequently get request about where we purchase our mattresses, so you can rest assured that you'll have a comfy night's sleep.
An insider's knowledge of your location. Looking for the best place to eat? Popular trails and hikes? The best festivals to attend? We can help! We know all of the secret treasures of our town, and we also offer special discount coupons for the best shops in Cape Charles.
Unique memories. Everything mentioned above adds up to a trip that will stay in your memories forever. From the food to the nearby activities, you'll always remember that time (or two) that you stayed at Bay Haven Inn of Cape Charles.
What you WON'T get:
Bland décor. B&Bs are a reflection of the innkeepers who own and run them, so every room you see will be a unique piece of an individual personality.
A fee for WiFi/parking/mini bar/etc. Our WiFi is FREE! Our parking is FREE! Our snacks are FREE! We believe that's all a part of your stay at our B&B, and you won't find any added fees for little things that should be provided to you at no cost.
An unmemorable stay. How often do you remember the hotels you visit? Probably not very often, and that's because there's nothing to really make them memorable.
We look forward you to showing you in person these 7 things that you will and won't get here at Bay Haven Inn of Cape Charles