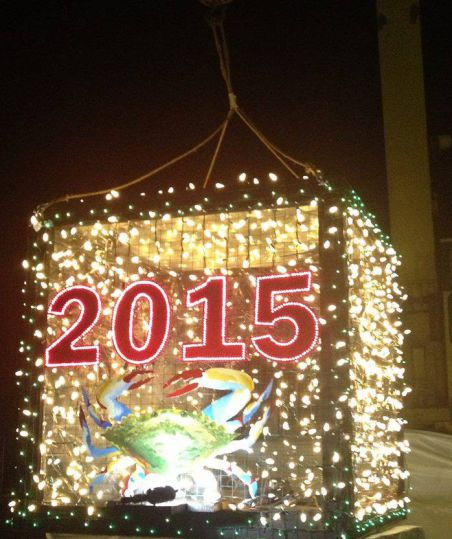 How do you usually celebrate New Year's Eve? Maybe you and a few friends grab a drink or two at a local bar. Maybe you and your family celebrate with a night of hot chocolate and board games. Or maybe you prefer to keep things low key with your significant other, a glass or champagne, and a TV special. But why not do something different this year? If you've never been to Cape Charles for New Year's Eve, then we bet you've never watched a celebratory dropping of the crab pot! Don't you think it's about time?
Join us here on Virginia's Eastern Shore for the 2nd Annual Dropping of the Crab Pot on December 31, 2015. This free event will include a fully-lite crab pot (yes, like the ones used to harvest crabs!) dropped from 90 feet, a beautiful display of fireworks, live music, and hot drinks to keep you warm.
But Cape Charles isn't the only place enjoying this sort of event…we'll be celebrating along with the town of Nuuk, Greenland. (So our Dropping of the Crab Pot will actually take place at 10:00 P.M. local time and 12:00 A.M. in Nuuk, Greenland.) Did you know that "Nuuk" means "cape"?
Once you've rung in the New Year, you'll need a place to rest your head and recover from the festivities, so grab your room at Bay Haven Inn of Cape Charles. There's no better way to re-fuel after a late night than with a hot cup of coffee and a hearty B&B breakfast. We look forward to seeing you soon!