---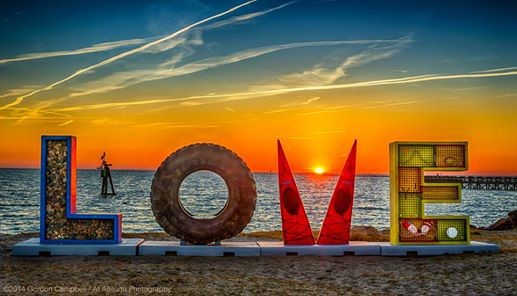 Virginia is for lovers, right? At least, that's how the saying goes. If you've visited the Commonwealth, chances are you've seen it on bumper stickers, hats, t-shirts, and various other paraphernalia. But have you ever seen Virginia LOVE in the form of art? Come to Cape Charles, and you will!
Virginia is for Lovers set out to prove that "love is at the heart of every vacation," and the way they did this is "by having giant 'LOVE' artworks pop up in many different and unexpected places across Virginia." Well, one of those locations just so happens to be Cape Charles! What makes Capes Charles' LOVEwork so special though, is that it is not only a reflection of all of Virginia, but it also portrays the specific aspects of Cape Charles that make our city so wonderful:
L – The "L" is filled with shells of clams and oysters, representing our aquaculture.
O – The "O" is a tractor tire, representing the rich history of the agriculture of the shore.
V – The "V" is made of two kayaks, telling the story of the great ways to explore and experience the shore via kayak.
E – The "E" is made of crab pots, representing the waterman and fresh crabs that come from the Chesapeake Bay.
We think this LOVEwork is a beautifully accurate representation of our shoreside home! If you'd like to visit it yourself, venture on out to the magnificent public fishing pier on your next trip to Cape Charles. (And don't forget to book your room at Bay Haven Inn of Cape Charles!)
Have you taken a photo at the Cape Charles LOVE sign? We'd love to see it! Share it on our Facebook page, or share it by email!